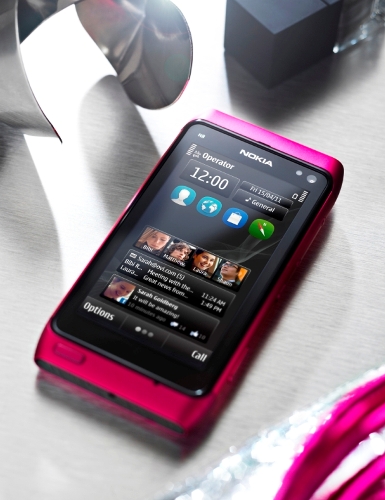 The latest colour to hit the Nokia N8, giving it an all feminine look, is now available. Yes, the limited pink version of the N8 has arrived in India and is will be available in select Nokia Priority Stores across 18 cities.
Viral Oza, Director Marketing, Nokia India, said, "The Nokia N8 has been extremely popular in India and we are pleased to introduce it in a stunning new colour.  The N8 in Pink is introduced especially for our women consumers who are tech-enthusiasts and yet love to flaunt their vibrant, stylish side. It comes with a perfect combination of great looks and high powered multimedia capabilities coupled with one of the best cameras on a smart phone, making it this season's must have for the new age woman."
The features of the pink N8 are similar to what the older N8 has, but will boast the latest PR2.0 update of the Symbian OS, aka Symbian Anna. This will be the first Nokia phone with Symbian Anna available for the Indian market because as of yet, the update hasn't started to roll out and the 2 new Symbian Anna devices, the X7-00 and the E6 have not yet launched. The handset will also have pink themed apps, wallpapers and screensavers to match the style of the handset. Little Pink Diva theme onboard, a Pink Neon Clock, Pink Note Widgets, are some of the personalised features that might appeal the fairer sex customers.