Nokia has today announced that the Finnish giant and Lumia smartphone maker has partnered with China Mobile to launch the Nokia Lumia 920T which is the first TD-SCDMA Windows Phone smartphone in China.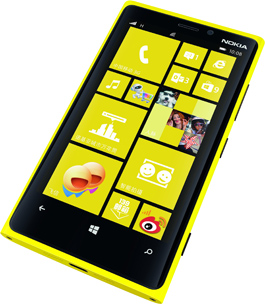 China Mobile is the largest operator in China and thus will play a significant role in bringing the Lumia experience to more Chinese consumers with its expansive TD network coverage.
The Nokia Lumia 920T arrives with a 4.5-inch ClearBlack display and is powered by a dual-core Snapdragon S4 processor. The 8 MP PureView lens on the back of the Lumia 920T is indeed a marvel and captures some beautiful low-light pictures. 
 
Nokia Lumia 920T users will enjoy the additional benefit of access to Mobile Market, China Mobile's application store, offering a large range of applications and services tailored for Chinese people, and an easy shopping experience
 
The Lumia 920T will be available for order by the end of the year and the smartphone will retail at RMB 4599 ($739) off contract. It will be available in four colours: black, white, yellow and red for buyers to choose from.
 
Nokia has also announced that it has entered into a strategic partnership with Air China which will let consumers to enjoy wireless chargers in Beijing Airport VIP lounges.