We have seen Nokia develop special apps like Nokia Music, Nokia Drive, Nokia Transport, Nokia Reading and many other dedicated to its Windows Phone running Lumia range of devices. And to join the gang, we may also go on to see a TV app which may land up in the Marketplace.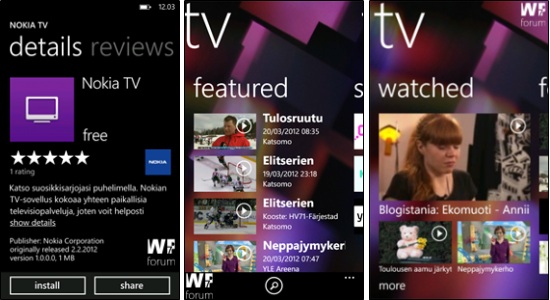 Called the Nokia TV app, the service may allow Lumia owners to view video broadcasts from local broadcasters in their country.

The Nokia TV app if exists in real will also allow users to stream shows directly over their Lumia devices via Wi-Fi or cellular data, download shows directly over the device for later offline viewing. And if the source is to be believed then the app may also allow live streaming of your favourite TV channel.

The service will launch first in Finland, the hometown of Nokia and will team up initially with three local broadcasters. There is still no information if Nokia will tie up with local broadcaster in other regions to support the app but it is most likely to do so if it really wants the app to see success.

After this TV app we really wonder what more Nokia has in store for Lumia owners in the near future.