As we are expecting the much awaited 41 MP camera sensor giant, Nokia 808 PureView to launch in India probably today, Nokia Shop has ousted the price of the Nokia Belle FP1 running smartphone.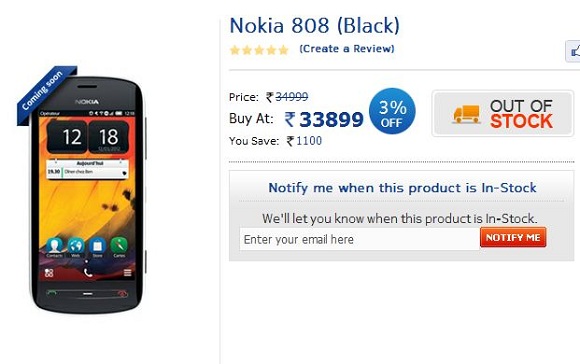 According to the site, the Nokia 808 PureView is priced at Rs. 33,899 after a discount of Rs. 1100. The MRP of the 808 is quoted at 34, 999.

Given the powerful camera sensor that the smartphone arrives with, I personally feel that the device is priced correctly. We on the other hand were expecting the device to arrive with a Rs. 29,999 price tag but there should not be many issues as Rs. 33,899 is not highly priced too.

The specs of the Nokia 808 PureView pack in a 1.3GHz single-core chip, 4 inch display with 360×640 (nHD) resolution, 512MB of RAM, 16GB of internal memory expandable via microSD, HSPA 14.4Mbps and Dolby Digital Plus for 5.1 channel. It runs on Nokia Belle FP1 OS.

Nokia 808 PureView is all worth every penny for the 41 MP camera sensor with Carl Zeiss Lens and Nokia's PureView Imaging technology for which the Finnish giant has also won award. The camera will be aided by a Xenon flash, and will have 3X zoom.

Stay tuned for more updates from the launch event as we bring you hands-on pictures and more.