Nokia unveils Mobile TV Headset – DVB-H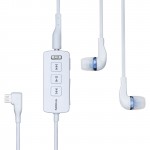 It is not worth a mention that most of the populace actually watch videos on their mobiles. But, the irony is that not many of us watch Live TV. Sure, there are constraints for it, such as data rates, stable 3G signals & free Wifi remain a cause of concern at many places in India. Nokia has made a tremendous leap ahead in the world of Mobile Technology, by addressing the exact solution of having a TV Receiver for one's Mobile. And, Nokia is the first among any-one, to launch the Mobile TV Headset.
The Nokia Mobile TV Headset, DVB-H (Digital Video Broadband – Handset) is the only 'mantra' which one needs to convert his Mobile into a Portable TV. Let's understand the main features that the DVB-H exhibits –
Without giving much thoughts about the Internet Connection, one can watch either Sports Channels / TV shows etc.

Ability to handle call reception & volume such a fashion that the user does not miss the in-coming calls.

Provision of spearate keys for changing volumes & channels.

If not pre-installed on Compatible Handsets, the user can download the Mobile TV app.

Its compatibility is best suited to Nokia N8 & other Symbian devices.

The cost would come to around 40 Euros & would be available in the markets by Q-IV, 2010.
However, there are a few cautions which one must understand. Patchy signals, licensing issues & lack of available frequency need to be addressed; but, places such as Netherlands, Russia, New Delhi and Helsinki are in the working zone.
Once these issues are settled, this Nokia Mobile TV Headset is a 'Must Have' for all Technology Enthusiasts.