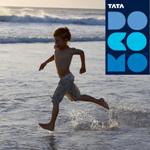 Tata Docomo has introduced the concept of "Pay for 30 seconds and next 30 seconds free" after launching almost similar offers in other circles. Its been more than a year since the launch of Tata Docomo in Maharashtra and we have experienced some best offers from this young provider. This time Tata Docomo has introduced an offer wherein all local calls made to any network will be chargeable for first 30 seconds, next 30 seconds will be absolutely free. This cycle will continue until you disconnect the call. So precisely the effective call charge will be 30 paise/minute.
Following are the details of this offer:
Available on FRC 39 (Rs.39) for new customers
Available on special recharge of Rs. 32 for existing customers
1 paise/sec charged for first 30 seconds , next 30 seconds free.
This scheme could have been better if the tariff validity was somewhere close to 6 months or atleast 3 months. Tata Docomo already has Rs. 49 special voucher for customers in Maharashtra circle which gives all local calls at 1 paise/2 seconds with a validity of 30 days. Thus by paying 17 bucks more the subscriber can avail sure shot 50% discount in tariff irrespective of the call duration. This new scheme will find less buyers unless Tata Docomo increases the tariff validity of this pack.
Mobigyaan will keep you updated as always!!!