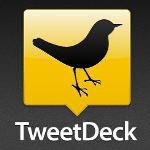 Its better, bigger and awesome. Tweetdeck for Android has been updated to version 0.9.8. But yet its not available from the official Android Market. Its available to download from Tweetdeck blog.
This version has got a lot of significant changes. The prominent one is the settings panel. Now you can control the font size, update interval and notification modes. If you remember my last post, I pointed that the absence of font control and settings options as a significant drawback in the version 0.9.1. But now this has been rectified.
The other significant feature upgrade is the presence of 3 little home-screen widgets. The post widget allows you to post a tweet update or add a photo to a post, directly from the home-screen. The column and bar widget are almost the same, except for their sizes. They are short cuts to the columns in the application. And yes, managing the columns is a lot better in this new version. Adding to the list of upgrades are some significant performance tweaks and bug fixes.
Go ahead and install this application and enjoy. Tell us what you feel and as promised, we will get back to you when the final version is available in the market, with in-depth review.