Nokia has announced the 'Your Wish is my App Season 2' and this time the campaign is global. The first season was launched in December 2012 and it was quite popular with Nokia receiving 38,000 entries and out of those app wishes, Nokia claims to have made 1200 of them a reality at the Windows Phone Store.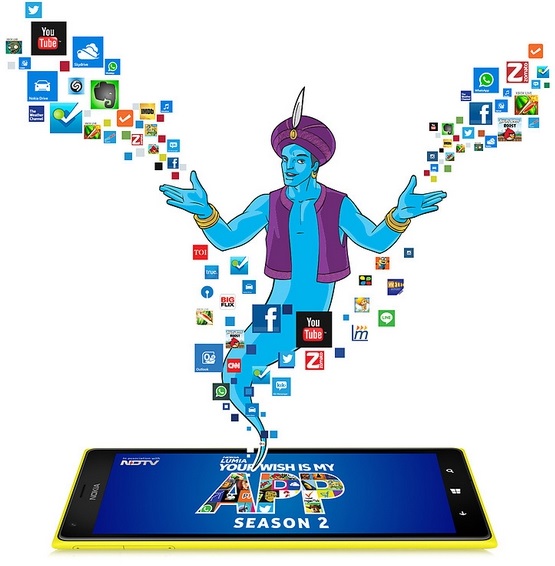 In case you don't know about this contest, you can submit your app wishes to Nokia and if your app idea wins then Nokia will make your wish a real app and that's not all as the winner of the contest gets a grand prize of Rs 10 lakhs, two runners up will be awarded Rs 5 lakhs and Rs 2 lakhs each and three lucky winners stand a chance to win the latest Nokia Lumia 1520. So how to take part in the contest, well its simple:
Twitter/Facebook: Post your idea either on your Twitter handle or FB page and tag it with #YourWishIsMyApp.
Nokia India FB page: Visit the Nokia India FB page, click on the YWMA tab and enter your idea.
SMS: send your ideas to 55555 (YWMA followed by app idea)
Out of all the ideas, 30 of the best app ideas will be showcased in a nine-episode reality TV show which will be aired on NDTV starting mid-March. Your ideas will be judged on certain points namely originality of the idea, relevance, and the practicality of implementing it.The judges of the contest are Rajiv Makhni, Sanjeev Bickhchandani, Vishal Gondal, Vikas Khanna, and Kalki Koechlin.
Announcing the Nokia Lumia- Your Wish is My App Season 2, P. Balaji, Managing Director, Nokia India, said "App culture today is a way of living. Superior smartphones, constant connection to Internet and great content has ensured that apps have woven themselves ever deeper into our daily routines. At Nokia we have constantly worked towards accelerating consumption of apps, whether through introducing innovative smart devices, building a robust ecosystem of developers or lowering cost of accessibility for users."
So anyone out here have an app idea? Well if you do then go ahead and let Nokia know and you never know, you might win Your Wish is my App Season 2 and get that grand Rs 10 lakh prize and even have the app you have always thought of.