Now create live video chat groups with Playgrounds on Fring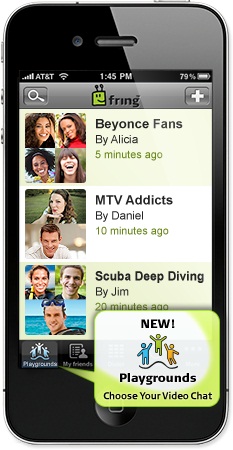 Fring has launched a new social feature within the fring app that enables anyone to participate in group video discussions about various subjects called Playgrounds. The Playgrounds feature enables fring users to engage in a four-way video discussion either by browsing a list of open Playgrounds or by creating their own video discussions about what they love or hate.
Fring users can try the new Playgrounds feature with other fring users from their iPhone/ iPad/ iPodTouch or Android. It is a pretty neat addition to the app as users can socialize with like minded people with similar interests live on their handsets.
The Fring app is available for the iOS devices and for over here Android devices over here.