RailTel, the Internet services arm of the Indian Railway today announced the launch of free high-speed Wi-Fi service at Mumbai Central in association with Google.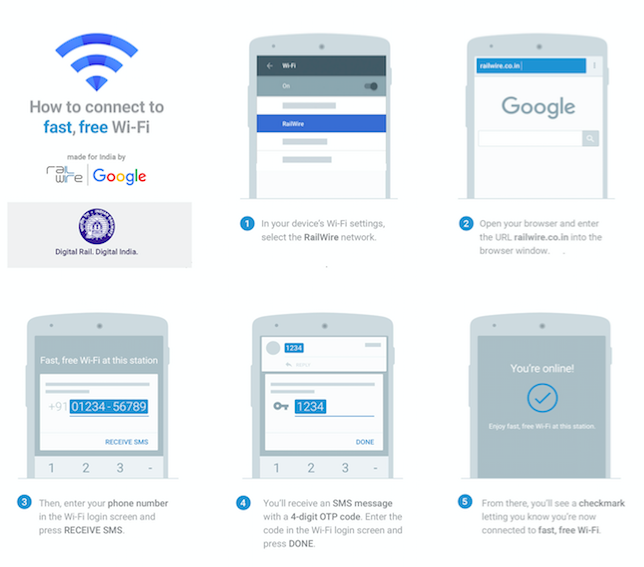 This project was announced during PM Modi's visit to Google HQ in Mountain View, California last year. Under this project, RailTel and Google aim to provide free high-speed Internet access to the people at 100 of the country's busiest railway stations through Wi-Fi. This free Wi-Fi service will be rolled out to the busiest 100  railway stations of India by the end of this year.
"Our intent was to fulfill Indian Railway's vision of providing Railway passengers access to high speed Internet through our Optical fiber communication network. Affordable smartphones have made it possible for the common men to experience the power of Internet. With our partnership with Google, we are very confident of rolling out a robust, scalable service at Railway stations in the near future." said Shri R. K. Bahuguna, Chairman and Managing Director of RailTel.
Mr.Bahuguna is correct, increasing competition and the race to capture the most of the market share has resulted in smartphones becoming cheaper than they already were, allowing people to be able to buy smartphones and get connected with the world through Internet.
"We've focussed on delivering a network that is at par with the high speed public Wi-Fi network that is available to users in developed countries. The network is built for wide coverage and high capacity usage unlike a typical Wi-Fi hotspot which offers connectivity in limited area and poor experience. This network will extend to cover both long distance train station and the local train station in Mumbai Central.   The next four stations we'll bring online will be Allahabad, Patna, Jaipur and Ranchi and others will follow very shortly." said Gulzar Azad, Head of Access Project, Google India.
RailTel's partnership with Google will enable millions of people who travel through Indian Railways get access to free high-speed Internet through Wi-Fi. The users will be able to stream movies, use chat messengers, make video calls, or better yet, surf MobiGyaan. Humor apart, the passengers will now be able to take advantage of the high-speed Internet service on railway stations which wasn't possible before.
After the 100 stations are covered, RailTel and Google aim to expand this service over 400 stations across India. As of now, only Mumbai Central enjoys this facility, but the next stations that will be brought online very shortly are Allahabad, Patna, Jaipur and Ranchi.
How to connect to free Wi-Fi at the Railway stations?
Select RailWire network from your device's settings.
Open any browser and enter railwire.co.in into the address bar.
Enter your mobile phone number in the Wi-Fi login screen and press RECEIVE SMS.
Enter the 4-digit OTP code that you received through SMS Message and enter it into the Wi-Fi login screen and press DONE.
You will be shown a check mark which means you are now connected to the high-speed free Wi-Fi Internet.
Do share your experience with us once you try it out. We would love to hear it from you.