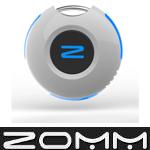 With billions of mobile phones being used worldwide, thousands of people walk away and accidentally leave their phone behind on a daily basis. ZOMM has created the solution.

ZOMM, a wireless leash for any Bluetooth-enabled phone, will sound an alarm if you walk away from your mobile phone, notifying you to turn around. The award-winning device also features call notification with speakerphone, a panic alarm and a feature that allows you to call emergency assistance from anywhere in the world with just one press of a button.

ZOMM is smaller than a normal electronic car key and easily attaches to a key ring. It fits comfortably in your pocket or purse and can even attach to a piece of clothing or workout gear. Similar in diameter to a poker chip, ZOMM features a single button for ease of use, LED lights for visual notifications, a microphone for two-way communications and a speaker for audible alerts including full speakerphone functionality.

As a wireless leash to your mobile phone, ZOMM sends an alert if you ever accidentally leave your mobile phone behind. With call notification, ZOMM will vibrate, flash lights and provide a sound alert for incoming calls when your mobile phone is out of sight; in a purse, gym bag or in a noisy environment. To answer a call just press a button and ZOMM is a fully functioning speakerphone. To send to voice mail, just press the multifunction button twice.

As a personal security device, ZOMM will sound a panic alarm and/or call for emergency assistance from anywhere in the world with just one press of a button. With its speakerphone capabilities, you can speak to emergency personnel without ever touching your mobile phone.

ZOMM will be available for retail in the second quarter of 2010, in both black and white color options. It uses a lithium-ion battery with a single charge lasting approximately three days. ZOMM also comes with a standard micro USB wall charger, a micro USB charger that connects with any computer (for updates and activation) and optional clips for ease of use. ZOMM is priced at $80 (Rs. 3600 approx).