OnePlus 3 and Xiaomi Mi 5, which is better in terms of specifications. The two flagship-killer phones have impressed us a lot with their powerful hardware at a low price. If you want latest and top-end hardware without costing a dime, you should look at these two phones, OnePlus 3 and Xiaomi Mi 5.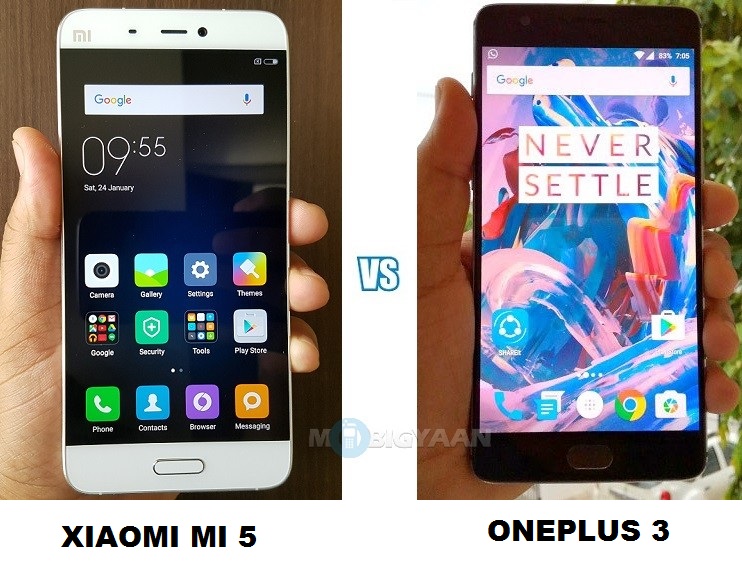 When you think of affordable flagships, these are the two competitors that came in my mind. So, if you are confused between which one is the best pick when you have a budget under ₹30,000, check our OnePlus 3 vs Xiaomi Mi 5 specs comparison below.
OnePlus 3 vs Xiaomi Mi 5 – Specs Comparison
[table id=47 responsive=flip /]
Performance: CPU, RAM, and Storage
Talking about the CPU, RAM, and Storage, OnePlus 3 tops the performance with its Qualcomm Snapdragon 820 (MSM8996) SoC. It has a 2.15 GHz quad-core CPU having 4 Kyro cores processor in it and a whopping 6 GB of RAM and 64 GB of storage. Moving to the Xiaomi Mi 5's hardware, it also has the Snapdragon 820 but with a lower clock speed of 1.8 GHz. Since there is a small difference in the clock speed, you won't figure out the performance difference, however, you will know it when you multi-task as OnePlus 3 has a large 6 GB RAM module. Also important is the doubled storage on OnePlus 3 i.e. 64 GB vs 32 GB on Mi 5 while both cannot be expanded, OnePlus 3 leads the way.
Display
OnePlus 3 boasts a 5.5-inch Full HD Optic AMOLED Display with 1920 x 1080 pixels resolution. On the other hand, Xiaomi Mi 5 has a 5.15-inch Full HD IPS LCD display (1920 x 1080 pixels). AMOLED displays turn out to be power efficient in my opinion since they do not lit the black pixels which in the case of LCDs they still have to power the pixels at black areas. One of the best display I have seen, and OnePlus 3 clears the round with a victory.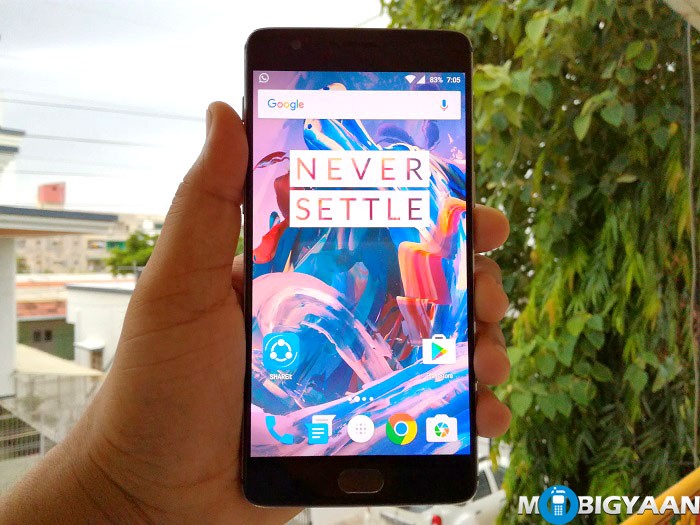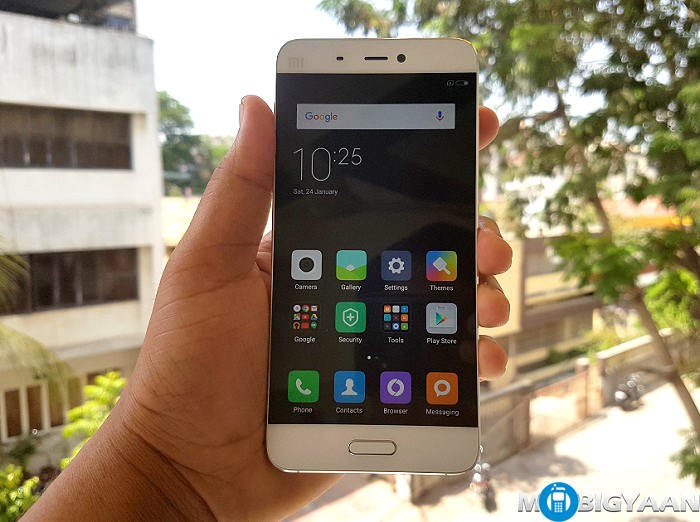 Software, Camera, and Battery
On the software side, OnePlus 3 runs on the newer OxygenOS 3.1.2 based on Android 6.0.1 Marshmallow and can offer frequent software updates as compared to the Xiaomi's Mi 5 comes with MIUI 7 based on Android 6.0 Marshmallow. Another thing to note that, OxygenOS is a pure stock Android while the MIUI is a customized Android. Customized Android can be as good and optimized for the phone, however, resource hungry in some cases, I would prefer a stock Android anytime.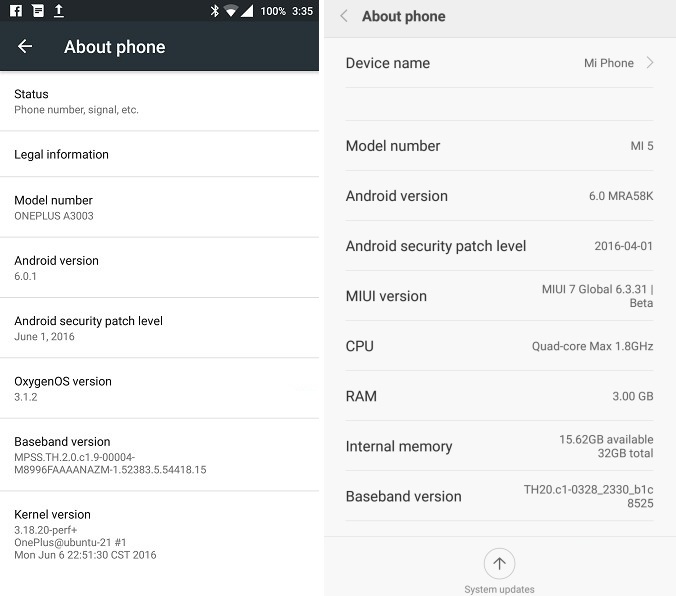 The camera on the OnePlus 3 is a 16 MP real shooter (Sony IMX298) with f/2.0 aperture, PDAF, and OIS (Optical Image Stabilization) support. The camera comes with a single LED flash. Further, it supports RAW image format, and can record up to 4K Video @30fps with HDR and 720p slow motion videos at 120 frames per second. On the Xiaomi Mi 5, the real camera is a 16 MP f/2.0 shooter with dual-tone LED flash. The camera supports PDAF and 4-axis OIS. It can record 4K video @30fps and slow motion 720p@120 fps. The front camera on OnePlus 3 and Xiaomi Mi 5 is 8 MP (Sony IMX179) f/2.0 with EIS and 1080p video support, and 4 MP f/2.0 with 1080p@30fps recording respectively. The camera competition is a close enough but OnePlus 3 manages to capture more details and somewhat better than Mi 5.
Coming to the battery, the powerful Snapdragon 820 can consume the battery like no other, and hence the battery life on both the phones are identical. Each of them is powered by a 3000 mAh battery. Though OnePlus 3 can have a slight advantage due to its AMOLED display, but the final results are quite similar. You can say it's a tie if there's not a huge difference.
Conclusion – Which is better?
The two flagships are seamlessly priced low, OnePlus 3 costing about ₹27,999 and Xiaomi Mi 5 at ₹24,999. While both of them offer the top end specs available in the market, OnePlus 3 will offer a great AMOLED display, better software support, and can be an excellent multi-tasker with its 6 GB RAM. I would prefer OnePlus 3 over Xiaomi Mi 5 if I have ₹28 grand to spend out from my pocket, else, for ₹24,999, Xiaomi Mi 5 could be a sweet deal.
Also, check their reviews we've done: