One of the most hyped flagships of this year, the OnePlus 5, was launched last month. The OnePlus 5 is successor to last year's OnePlus 3T which was one of the best smartphones of 2016. The OnePlus 5 has got some raw power under the hood as it comes powered by Qualcomm's Snapdragon 835 SoC which is laced with 6 GB or 8 GB of RAM.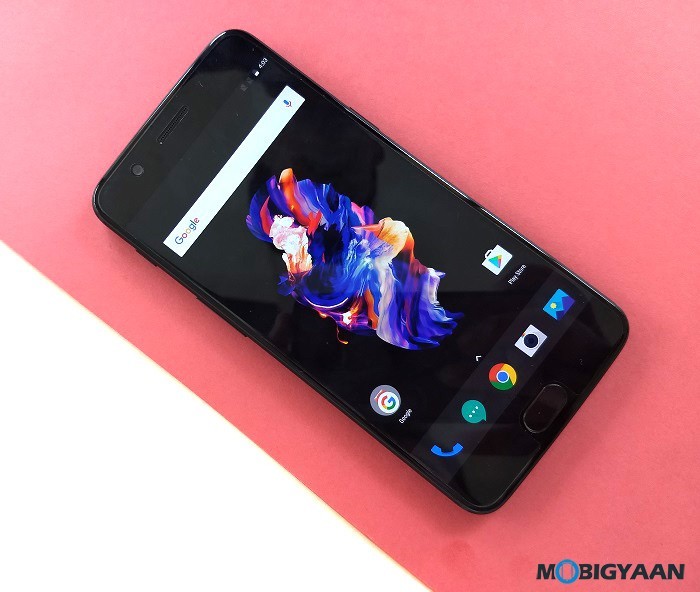 OnePlus flagships are known to come with the latest hardware at an affordable price, however, that's not the only thing they are known for. OxygenOS, which has powered the OnePlus flagships in the past, and powers the OnePlus 5 as well, is liked by many for being close to stock Android with the right number of useful customizations thrown into the mix.
Well, if you are someone who owns a OnePlus 5, here are some cool tips, tricks and hidden features that would help you eke out the most out of your smartphone. Read on.
1) Show Battery Percentage and Network Speed in Status Bar
Like every other phone, the OnePlus 5 also comes with a battery indicator, however, it doesn't show the exact percentage of battery by default, hence, we often have to drop down the quick settings to see the battery level. Well, if you don't like doing this every time, you can show the battery percentage in the status bar. To enable it, go to the Settings > Status bar menu and tap on the "Show battery percentage" toggle and the battery percentage will be visible next to the battery icon in the status bar.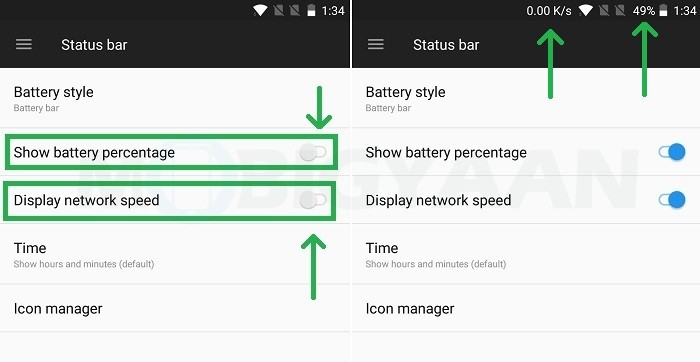 Apart from this, you can also display the network speed in the status bar so that you are aware of your Internet speed at all times. To show network speed in status bar, go to the Settings > Status bar menu and tap on the "Display network speed" toggle.
2) Customize Call Vibration Pattern
Some of the complains about the OnePlus 3 and 3T were that they had a weak vibration motor. Well, during the launch event, OnePlus said that they have improved the vibration motor so that you will actually know when your phone vibrated.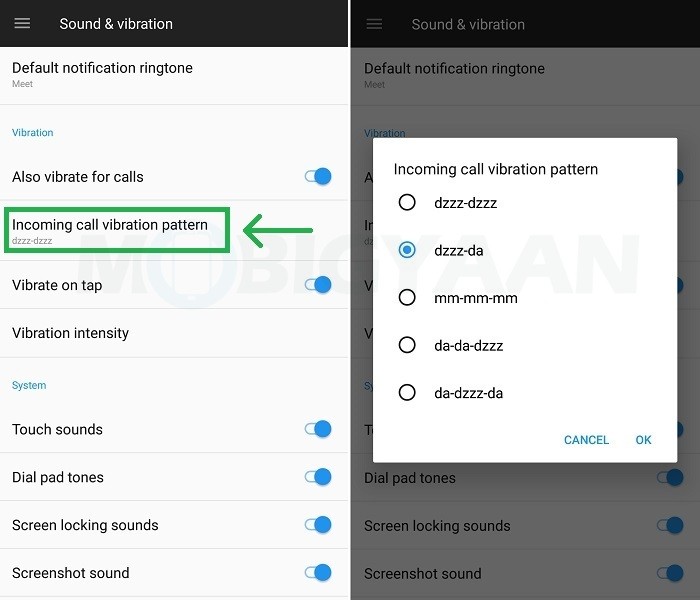 While this improvement is welcomed, OnePlus has added an option in the OnePlus 5 to customize the call vibration pattern. To customize the vibration pattern, head on to the Settings > Sound & vibration menu and tap on the "Incoming call vibration pattern". From there, you can choose from five different vibration patterns for incoming calls.
3) Customize your Audio experience
These days, you will often see people having their earphones on and listening to music through their smartphones. Smartphones replaced portable media players (PMP) long ago and people too prefer a smartphone over a PMP most of the time so they don't have to carry a dedicated music player.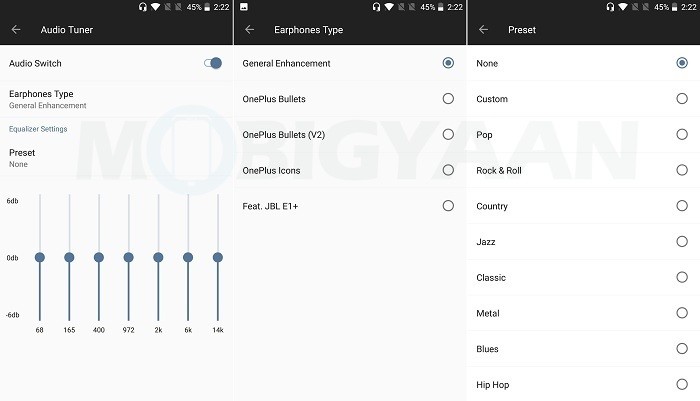 Well, being aware of this, many OEMs launch smartphones which are targeted at audiophiles. While the OnePlus 5 isn't targeted at that demographic, like many other smartphones, it does let you fine tune the audio output. To customize the audio coming out of the earphones connected to your OnePlus 5, you can go to the Settings > Sound & vibration menu and tap on "Audio Tuner". From there, you can select the type of earphones you have and can also customize the equalizer settings or choose from the ones already available like Pop, Rock & Roll, Jazz and much more.
4) Enable On-Screen Navigation Buttons
The OnePlus 5 comes with a home button housing the fingerprint scanner at the front which is flanked by two capacitive navigation keys. These keys act as back and recent buttons whereas the home button acts as a, well, home button. If you are like me and are used to on-screen navigation buttons, worry not, as you can bring them back on the OnePlus 5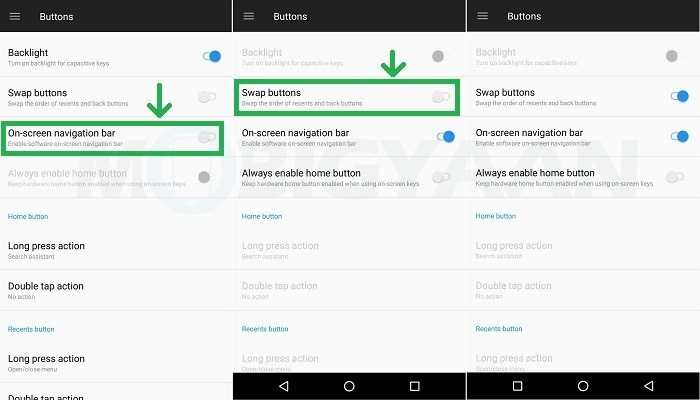 To enable on-screen navigation buttons on the OnePlus 5, just go to the Settings > Buttons menu and tap on the "On-screen navigation bar" toggle. Well that's it. You have the on-screen navigation buttons back. There are many other options available in this menu like swapping the position of back and recent buttons. You can also customize all three buttons based on your liking.
5) Customize Gestures
The OnePlus 5, like its predecessor, comes with Gestures, however, the gestures on OnePlus 5 come with some improvements. Gestures like double tap to wake and three-finger screenshot are already present, but, the phone comes with some other gestures like drawing O, V, S, M and W on the screen to perform a predefined function or launch your favorite app. You can head on to the Settings > Gestures menu to activate some gestures and customize the others. For example, you can make a gesture of drawing W on the screen to launch WhatsApp.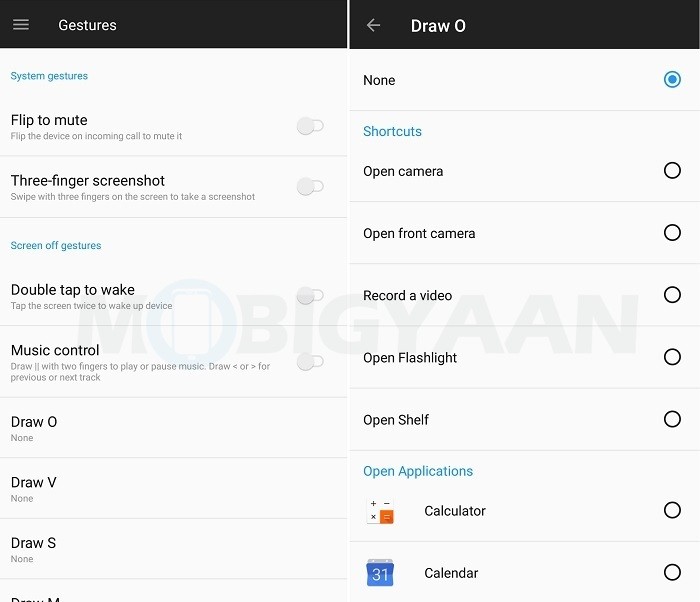 6) Set up Reading Mode to have Kindle like reading experience
One of my favorite additions to the OnePlus 5 is the Reading Mode as I read a lot on my phone at night using apps like Quora and Reddit. What Reading Mode does is it turns the screen of the OnePlus 5 to grayscale which offers reading experience similar to that on a Kindle. Moreover, it also adjusts the color temperature of the screen based on the lighting conditions using the ambient light sensor.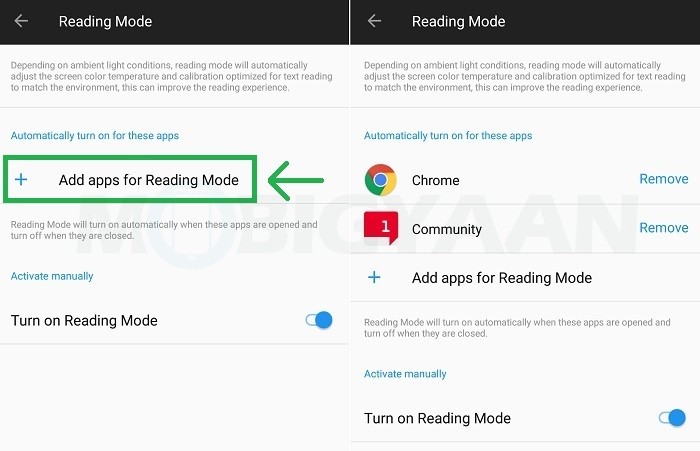 To enable reading mode, go to Settings > Display > Reading Mode and tap on the "Turn on Reading Mode" toggle. Apart from that, you can also automatically turn on and off reading mode when certain apps are opened and closed.
7) Turn on Night Mode automatically
Night Mode is nothing new on the OnePlus 5 as it was also present on the OnePlus 3 and 3T. However, what's new with Night Mode this time is that you can turn it on and off automatically. You can either choose to turn it on and off automatically from sunset to sunrise, or, you can specify a time range during which it will remain on. You can go to the Settings > Display > Night mode and schedule night mode according to your liking.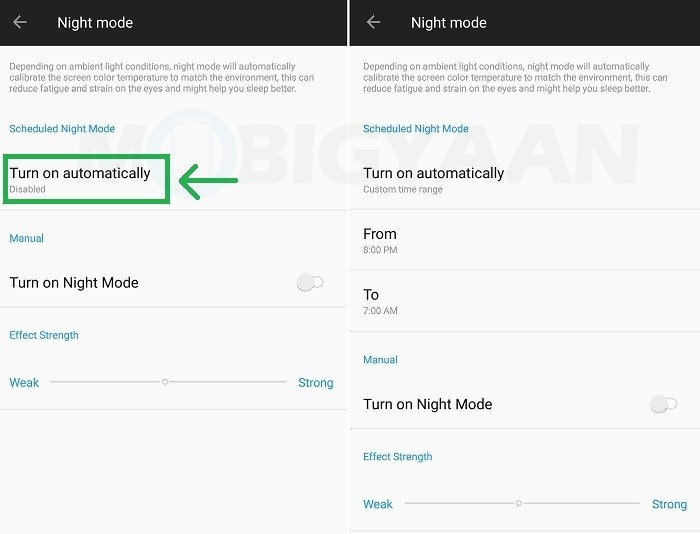 8) Enable USB OTG
The OnePlus 5 is offered in two different variants – 6 GB RAM + 64 GB internal storage and 8 GB RAM + 128 GB internal storage. Well, while that much storage should be enough for most of the users, there can be times when you run out of space on your phone for whatever reasons, or, have to transfer data quickly. It's times like these when the ability to transfer data using the USB OTG feature comes in handy. The OnePlus 5 too supports data transfer over USB OTG, however, it's turned off by default. To turn it on, head on to the Settings > Advanced menu and tap on the "OTG storage" toggle.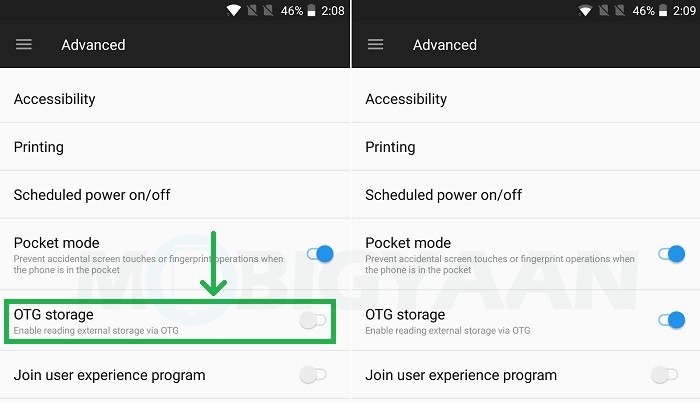 9) Recent App Management
The OnePlus 5 comes with 6 GB and 8 GB of RAM under the hood, which means you should never run out free RAM on your smartphone. However, if you are someone who often runs out of RAM for whatever reasons, you might have to switch to aggressive RAM management. You can do this by going to the Settings > Advanced > Recent app management menu and switching from the default Normal clear to Deep clear.
The difference between both is the Normal clear clears task list and cache without clearing the background processes whereas Deep clear does clear background processes which might stop some apps from working. Hence, we would advice you to stick to Normal clear unless you are fully aware of what you are getting into.
10) Play games without getting disturbed by notifications
We all know how much annoying it is to receive notifications while playing our favorite games. Well, the OnePlus 5 is a great gaming device, and to further enhance that experience, OnePlus has added a Gaming DND mode in it which when turned on exempts calls, alarms and other notifications. It also locks the capacitive buttons so that you don't exit the game mistakenly when you are close to a new high-score.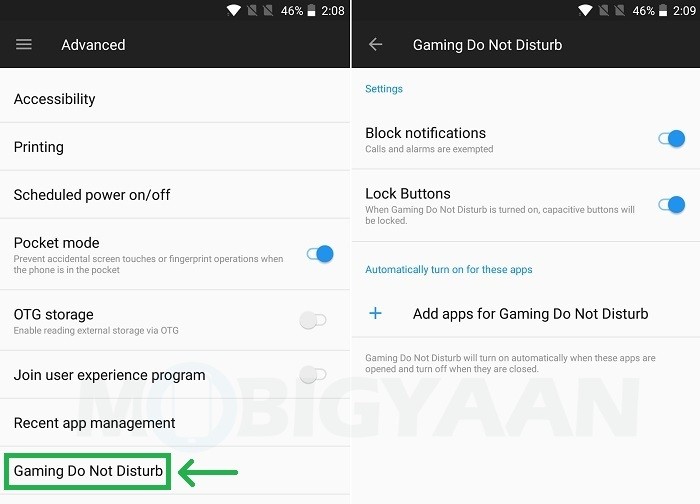 To turn on Gaming DND, head on to the Settings > Advanced > Gaming Do Not Disturb menu and toggle the Block notifications and Lock Buttons option. Moreover, you can also choose to turn Gaming DND on and off automatically when certain games (or apps, if you want) are opened and closed.
11) Choose your favorite Bluetooth Audio Codec
The OnePlus 5 is one of those select few smartphones which come with the latest Bluetooth 5.0, and, if you are someone who listens to music using a Bluetooth headset, you get to decide what kind of audio output you want. You can switch between aptX HD, aptX and SBC Bluetooth audio codecs and see which one works best for you. To switch between these, head on to the Settings > Advanced > Bluetooth Audio Codec menu.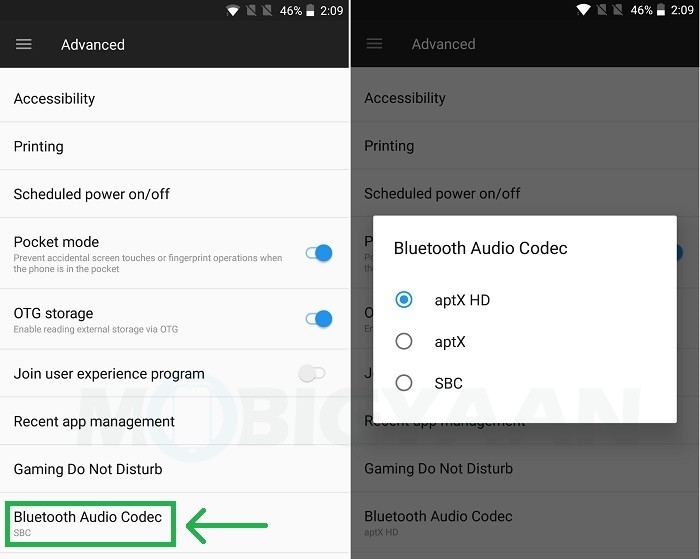 12) Lock Apps
There are tons on app lockers available on the Play Store, however, not all of them are good. Besides, they also take up space on your smartphone, even if it's little. Well, you wouldn't have to download third-party app lockers to secure apps if own a OnePlus 5 as it comes with built-in app locker.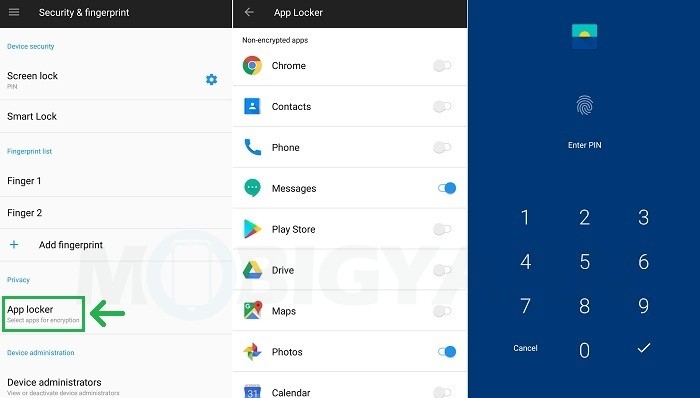 To lock apps, just go to the Settings > Security & fingerprint > App locker menu and select the apps that you want to lock. Once locked, these apps can only be accessed by entering the PIN or using the registered fingerprint.
13) Hide Files
Apart from locking apps, you can also hide files that are stored on your OnePlus 5. The OnePlus 5 comes with a feature called Secure Box which is integrated into its File Manager app. Once a file is sent to Secure Box, it will be hidden from all.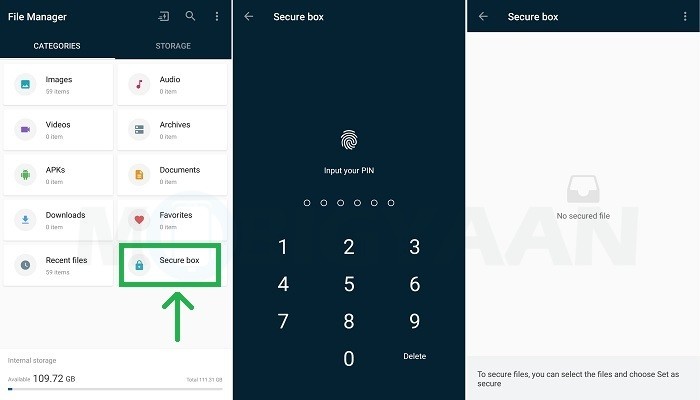 To hide a file by sending it to Secure Box, find it in the OnePlus' File Manager, long-press on it and then tap on "Set as secure" from the three-dot menu button that will show up at the top-right corner of the screen. Once you do that, the file will disappear and will only be accessible from within Secure Box which can only be accessed through a PIN or a registered fingerprint.
14) Share files quickly using FileDash
We often rely on apps like SHAREit and Xender to transfer files quickly between smartphones. Both these apps are very good at transferring files quickly, however, they are still an extra download on your smartphone. Thankfully, you wouldn't have to download either of these apps on your OnePlus 5 as it comes with a feature called FileDash.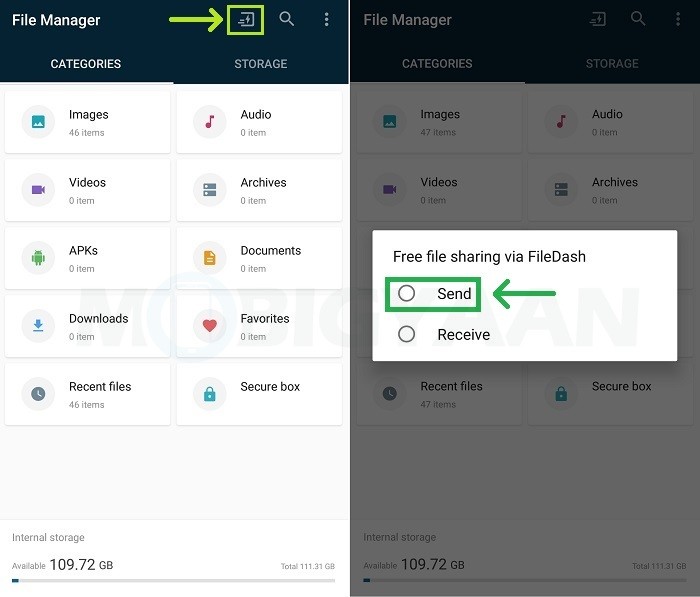 Using FileDash, you can send (and receive) files quickly. To send a file using FileDash, open the native File Manager, tap on the FileDash icon next to the search icon at the top and then tap on the Send option. If the receiver has a OnePlus smartphone, he will have to tap on FileDash icon and then on Receive. If it's not a OnePlus smartphone, then the person will have to connect to the hotspot of OnePlus 5 and visit the link "one.plus" in the browser and download it from there.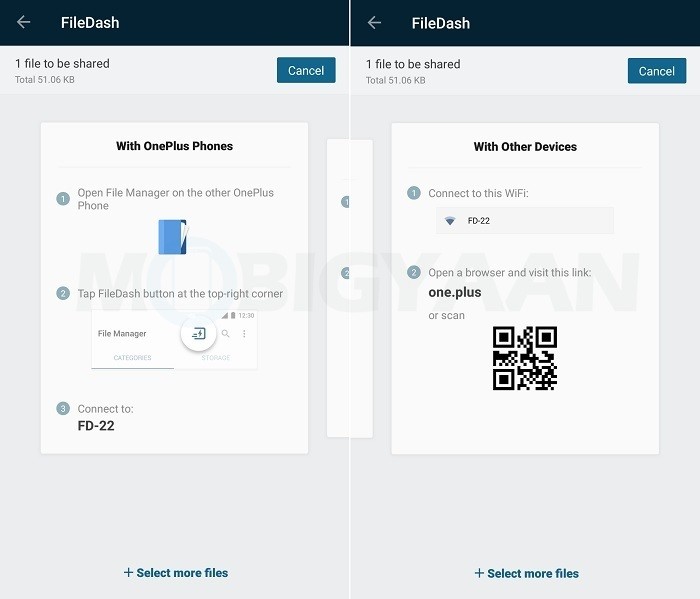 15) Disable App Shortcuts
The OnePlus 5 runs Android 7.1.1 Nougat which comes with my favorite feature called App Shortcuts which is similar to the 3D Touch on iOS. With App Shortcuts, whenever you long-press on an app icon, you will be shown different options you can jump on to quickly. For example, if you long-press on the Camera icon, you will be shown options like Portrait, Selfie and more. However, if you are someone who doesn't like this feature for whatever reason, you can disable it.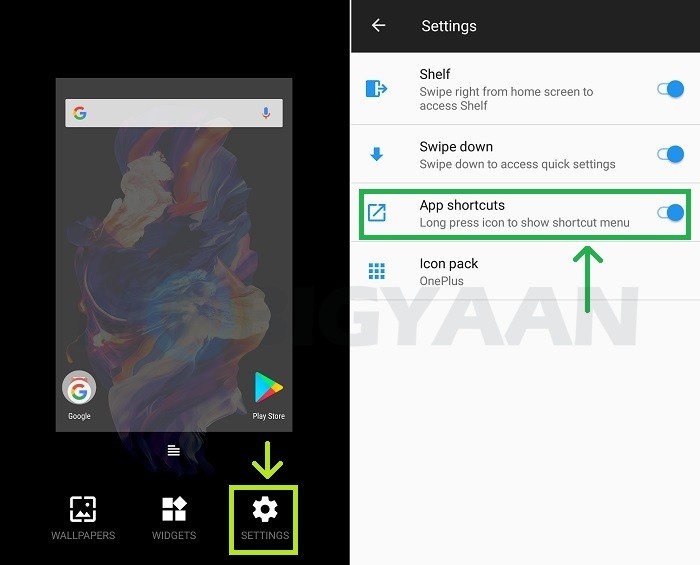 To disable App Shortcuts, long-press on the homescreen, tap on the Settings icon and then tap on the App Shortcuts toggle.
16) Change apps icons individually
We all know that apps icons on Android devices can be changed by downloading a third-party icon pack. But, what if you wanted to change the app icon of only certain apps? Well, to do so, just long-press on an app icon and take it towards the Edit option that would show up at the top on the homescreen.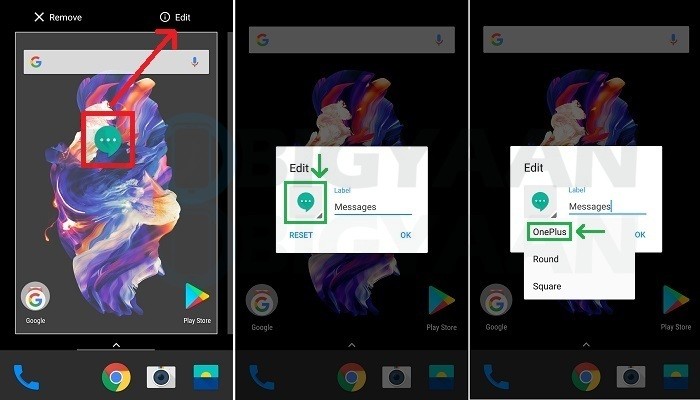 Once you drop it inside the Edit option, you will see the name of that app in the Edit sub-menu along with its icon. To change the icon of that app, just tap on it and you will see the name of the available icon packs on your OnePlus 5. Select any one of them and you will then see the available icons. Tap on any one of those icons and the app icon will now be changed.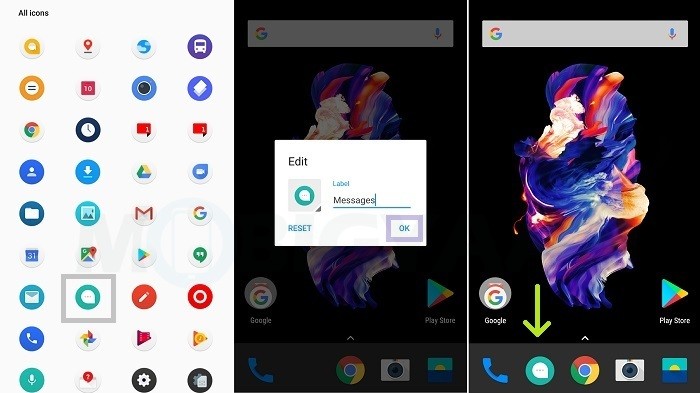 17) Switch between Wi-Fi and Mobile Data to stay connected to the Internet
The OnePlus 5 comes with a feature called Smart Wi-Fi Switcher which is already available on the OnePlus 3 and 3T. What this feature does is that it switches between Wi-Fi connection and Mobile Data automatically depending on the signal strength to make sure you are always connected to the Internet.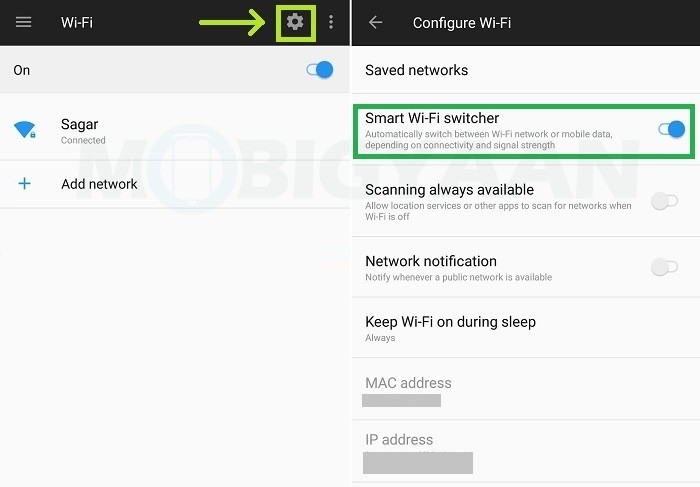 To turn on Smart Wi-Fi Switcher, go to the Settings > Wi-Fi menu and then tap on the gear icon located at the top-right corner of the screen. After that, tap on the Smart Wi-Fi Switcher toggle to turn it on.
18) Schedule power on/off
Having a good night's sleep is important to stay fit and healthy, however, thanks to smartphones and our addiction of them, we often don't get that. Of course, one can always turn off the Wi-Fi and mobile data or turn on the airplane mode to avoid any calls and messages, but, if that's not enough, you can turn off the phone entirely.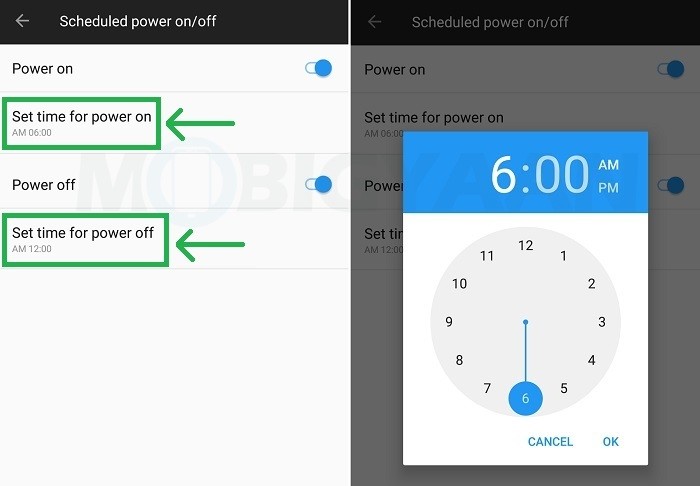 If you are someone who regularly turns off the smartphone at night and forget to turn it on in the morning, the OnePlus 5 comes with scheduled power on/off mode, which, as the name suggests, lets you turn it on/off automatically at a specified time. To do this, head on to the Settings > Advanced > Scheduled power on/off menu off and select the time at which you want your OnePlus 5 turn on/off automatically.
19) Remove Histogram from Pro Mode
The OnePlus 5 comes with a Pro Mode which offers manual control over different aspects of the camera like focusing, white balance, shutter speed and more. Besides, when you are taking photos in Pro Mode, a histogram is also showed on top which displays real-time information like ISO and shutter speed.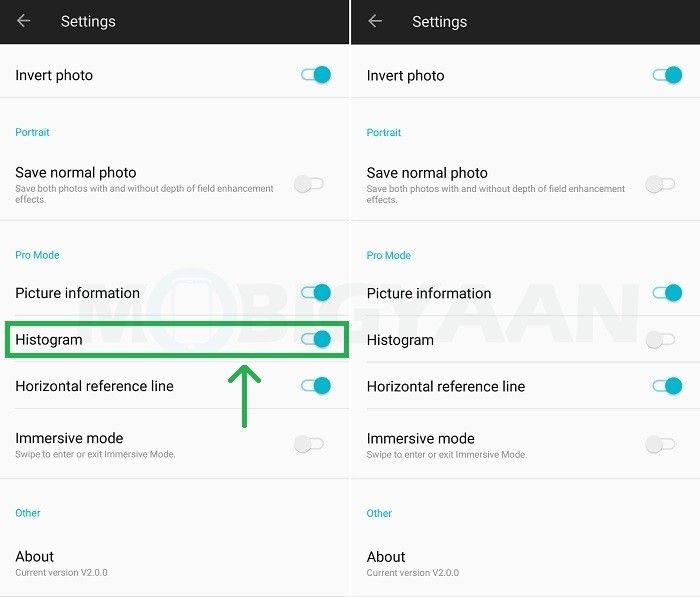 While this histogram is useful for professional photographers, it would make less sense for us mortals who may not understand much by looking at it. Having said that, the good thing is that you can remove that histogram. To do so, tap on the hamburger icon located at the top-left of the screen and then tap on the gear icon that would show up at the top-right of the screen. After that, tap on the Histogram toggle that will be present in the Pro Mode sub-menu.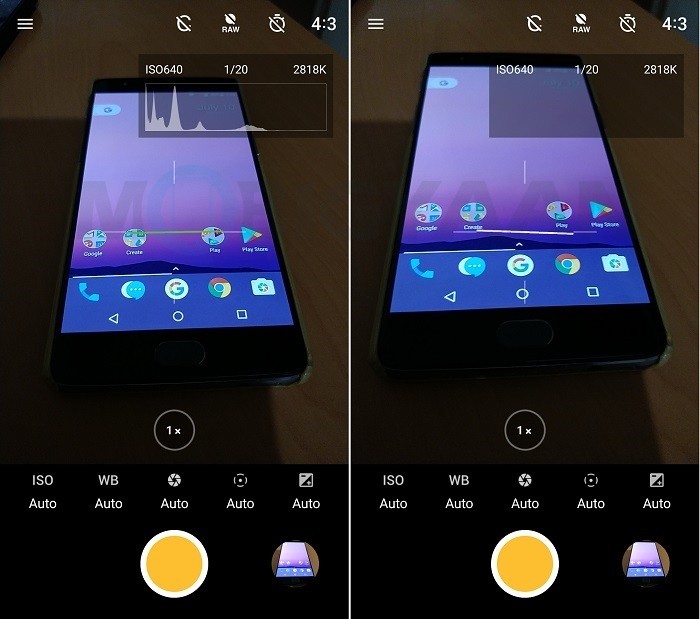 20) Capture images in RAW format
Like the OnePlus 3 and 3T, the OnePlus 5 also lets you capture images in RAW format. RAW format is preferred by many photographers over the JPEG format because it contains less processed information and isn't compressed. This helps the photographers edit images to their liking with greater control. If you are a photographer, you can capture images in RAW format on the OnePlus 5. Just enter the Pro Mode and tap on the RAW button that appears at the top.
21) Save Pro Mode settings
As someone who often resorts to Pro Mode (or manual controls as some would say) on the OnePlus 5 to adjust shutter speed and focus, I know it can be annoying having to do all that again. But, thankfully, you can save your custom settings on the OnePlus 5 to save time and access them quickly.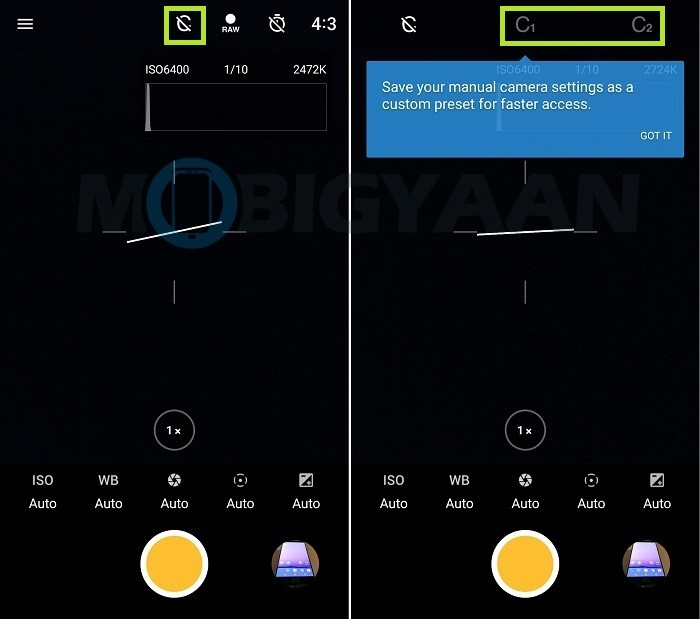 To save your manual settings in the Pro Mode, tap on the C button located next to the RAW button, and after that, you will see two more buttons – C1 and C2 – tap on any one of them to save your manual settings.
Well, these were some of the OnePlus 5 tips and tricks that should help you make the most out of your smartphone. We hope you liked them. If you think we missed out on something, feel free to mention that in the comments down below and we will add it to this list.
Also, we will be publishing our detailed review of the OnePlus 5 soon, so if you want to know anything specific about it, do sound off in the comments below.