Fast Charging has become one of the most talked about features in a smartphone, and, more and more smartphones are coming with fast charging these days. Well, they actually should. After all, no one wants to be a "wall-hugger" and keep waiting for their smartphone to fully charge. Fast Charging has become a necessity in a smartphone these days and it shouldn't be looked at as an additional feature. If fast charging in a smartphone is of paramount importance to you, you might be interested in knowing which is the fastest charging smartphone right now. Well, the folks over at Tom's Guide put the latest flagships to test, and, the OnePlus 5T (unsurprisingly) has emerged as the winner.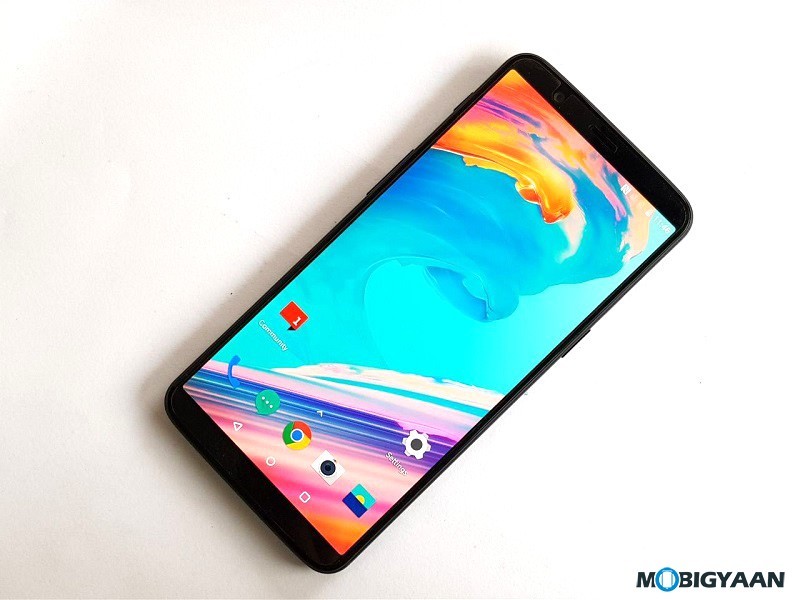 The folks over at Tom's Guide put a total of seven flagships to test – four of them were Android smartphones and the other were this year's iPhones. All the Android smartphones in this test support fast charging. The Apple iPhone 8, 8 Plus and X also have support for fast charging, but, you have to shell out extra money to buy a 29-watt power adapter and a USB-C-to-Lightning cable in order to get fast charging speeds.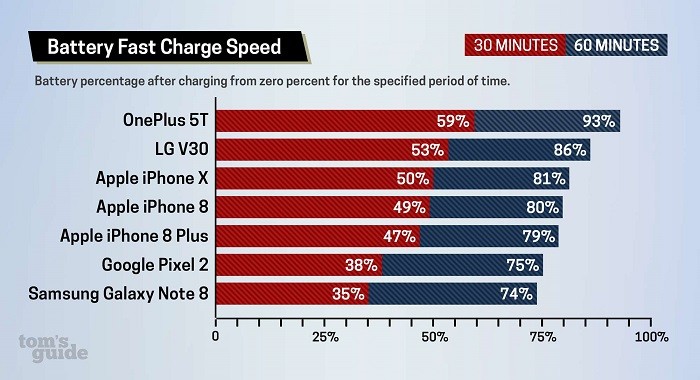 However, unlike Apple, the Android smartphones in this test all come with fast charging adapter. Hence, in the first round of the test, all the phones were charged using the bundled fast charging adapter and USB Type-C cable (29-watt power adapter and a USB-C-to-Lightning cable in Apple's case).
In first 30 minutes, the OnePlus 5T charged from 0 to 59%, becoming the fastest charging smartphone of the lot. The 5T was followed by LG V30 that charged 0 to 53% in 30 minutes, the iPhone X 50%, iPhone 8 49%, iPhone 8 Plus 47%, Pixel 2 38%, and, the Galaxy Note 8 35%.
Well, in the first 30 minutes of charging, the 5T emerged as the clear winner that charged the most from 0%. However, the OnePlus 5T also became the fastest charging smartphone in 60 minutes of charging, as it juiced up 93%. Followed by 5T was the V30 that charged 0 to 86% in 60 minutes. The iPhone X stood third with its 81% charge.
The iPhone 8, 8 Plus, Pixel 2 and Galaxy Note 8 all charged 80%, 79%, 75% and 74% respectively in 60 minutes.

Having said that, iPhone 8, 8 Plus and X, when charged with their bundled adapter and cable, charged from 0 to 30%, 26% and 17% respectively in 30 minutes. And, in 60 minutes, the iPhone 8 reached 58% charge, iPhone 8 Plus 55%, and, the iPhone X 37%.
So, as you can see, if you are looking for a smartphone that charges insanely fast, then the OnePlus 5T is the one you should be buying. The OnePlus 5T, unlike other Android smartphones in this test, uses the proprietary Dash Charge technology instead of Qualcomm's Quick Charge. The Dash Charge not only manages to charge the 5T more than 50% in half an hour, but, it also manages to keep the phone cool when it's being charged this fast.
Well, the OnePlus 5T is not the only smartphone that employs Dash Charge tech though. The OnePlus 5 launched back in June this year, and, the OnePlus 3 and 3T that were launched last year, all come equipped with Dash Charge technology.
Does your smartphone charge this fast, or comes anywhere closer to these speeds?