OnePlus Referral Program is on its way before the launch of OnePlus 5. The company has announced a referral program under which anyone can avail a $20 discount on the purchase of any OnePlus accessories. OnePlus Referral Program is announced just ahead of the upcoming smartphone OnePlus 5.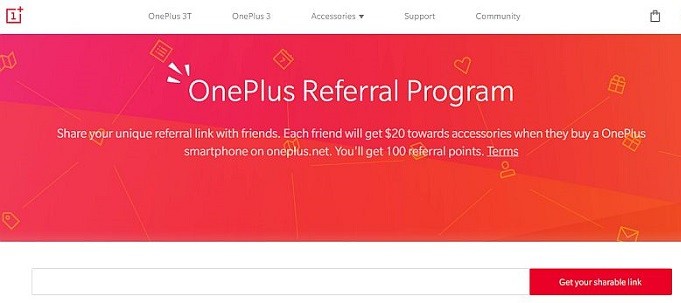 This offer ensures that whoever buys a OnePlus smartphone from your unique link will receive a $20 off (or an equivalent amount in your local currency) on OnePlus accessories. This offer is applicable to the owners of OnePlus branded smartphones including OnePlus One, OnePlus 2, OnePlus 3, OnePlus 3T and even the upcoming OnePlus 5.
That's not it, for each time your referral code is used, OnePlus you rewards 100 referral points. The points will be credited to your account within 30 days of purchase. Spend these points on your favorite stuff from the OnePlus brand. Referral points can be used on pretty much anything: T-shirts, messenger bags, accessories, and yes, even smartphones.
It's both sides a win-win situation. Your friends get a $20 off on accessories as well as you receive 100 reward points which can be used to purchase OnePlus goodies. Wondering how to get your unique link?
How to get OnePlus Referral Program Link
You are eligible for this program if you have bought any OnePlus smartphone in the past from the OnePlus.net store. Unfortunately, you won't receive the link if you have already bought from 3rd party online stores like Amazon, Flipkart, etc.
Log into your account and visit oneplus.net/referral
Tap 'Get your shareable link'.
Share this link with your friends and family who are planning to buy a OnePlus smartphone.
Once they have successfully made a purchase, the coupon grants them a $20 (~₹1,300) discount on accessories. Further purchases from your links reward you 100 points each time.
OnePlus 5 is coming soon. This is your chance to collect lots of points before OnePlus 5 finally reaches the ground.