OnePlus 5 has been a victim for many leaks and renders, no doubt it is one of the most anticipated smartphones of this year. A new leaked internal mail from OnePlus has revealed the OnePlus launch date before OnePlus officially confirms. OnePlus 5 will launch on 15th June according to the leak.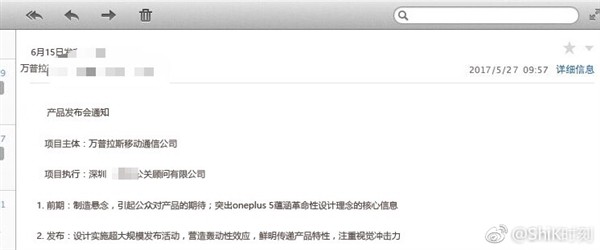 The information looks concrete according to the message unveiling the launch date of the OnePlus 5. The leaked mail is said to be meant for making arrangements for the product's publicity. However, it could be an intentional move by the company as a part of the promotion, who knows?
Recently, OnePlus has announced that OnePlus 3T will be discontinued and only available for purchase till stock lasts. This is yet another move in order to make way for its new flagship.
OnePlus and Qualcomm has confirmed that OnePlus 5 will pack the fastest 10nm SoC – Qualcomm Snapdragon 835. As far as the launch date is concerned, this could be the first smartphone to launch in India with the Snapdragon 835 chip. As per the rumors and leaks going on, OnePlus 5 is expected to sport an 8 GB LPDDR4X RAM, Adreno 540 GPU, and a 128 GB internal storage.
Further leaks and renders suggest that OnePlus 5 will come in a Red color and a dual camera on board. OnePlus' official Twitter account also tweeted about the color variants of the OnePlus 5 and we are very much excited about its red color variant.
Rest assured, we are waiting for an official press invite from OnePlus to confirm the OnePlus 5 launch date.