Feature phones that still have a major market due to their affordability are somewhere lost, as the development of smartphones is progressing every day. And mobile browsing is now an integral part of our life, but then feature phones don't have enough apps to make the browsing experience great. To tackle this situation, Samsung in collaboration with Opera has announced that all its future feature phones will have Opera Mini pre-installed over them.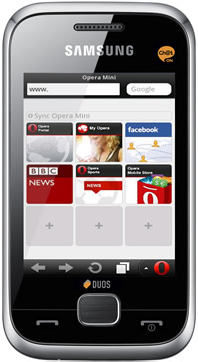 From now, Samsung's feature phones like Star3, Star 3 Duos, Champ Deluxe and Champ Deluxe Duos have already started shipping with Opera Mini on-board. More new models with Opera Mini preinstalled will be released in 2012.
Opera Mini makes the browsing experience over a mobile phone just awesome. With the support of flash, it provides a desktop like user experience to users with tabbed browsing, password manager, Speed dials and Opera link. One unique feature of Opera Mini is that it loads pages 10 times faster as it compresses data up to 90% of the original size thus, loading faster and also saving on the data consumption.
Where some countries are already on 4G, in India 3G is trying its best to reach out to users but 2G is the generation that we are running on. So in such case where is the speed is low, Opera Mini comes in very handy. Nice move by Samsung and we hope that more OEMs come out and start launching their device with Opera Mini pre-installed.