The Oppo Find 7 is something the company cannot stop gushing about. After confirming that the Find 7 is coming in a Quad HD and full HD version, the company is now indicating that there will also be 3G and 4G versions of the smartphone available.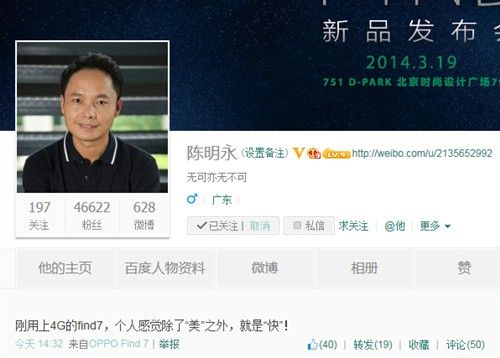 Oppo CEO Chenming Yong posted on Chinese social networking site Sina Weibo, that he has been using a 4G version of the Oppo Find 7 and said something close the handset being 'very highly evaluated' in Chinese. The phone is expected to come in 4G LTE model along with a TD-SCDMA version for China mobile and two 3G WCDMA versions. It seems Oppo will either give you a huge range of models to choose from or release different models for different countries.
Either way, the Oppo Find 7 is slated to be an awesome phone offering Quad HD/Full HD display, a Snapdragon 805 processor, 3 GB RAM and a 4000 mAh battery. Besides this, there is also some speculation around a 50-megapixel/ 13-megapixel rear camera.
We hope that we will know soon what this handset offers. It is expected to launch on March 19.
Oppo Find 7 rumored specs
2560 x 1440p / 1920 x 1080p display
Snapdragon 805 processor
3 GB RAM
4000 mAh battery
50-megapixel/ 13-megapixel rear camera