OPPO unveiled its newest flip smartphone – OPPO Find N2 Flip about a couple of weeks ago and it's the newest flip-style foldable smartphone from the company highlighting its next-gen Flexion Hinge foldable screen with an invisible crease. OPPO has revealed the OPPO Find N2 Flip's next-gen Flexion Hinge mechanism, here's a look inside.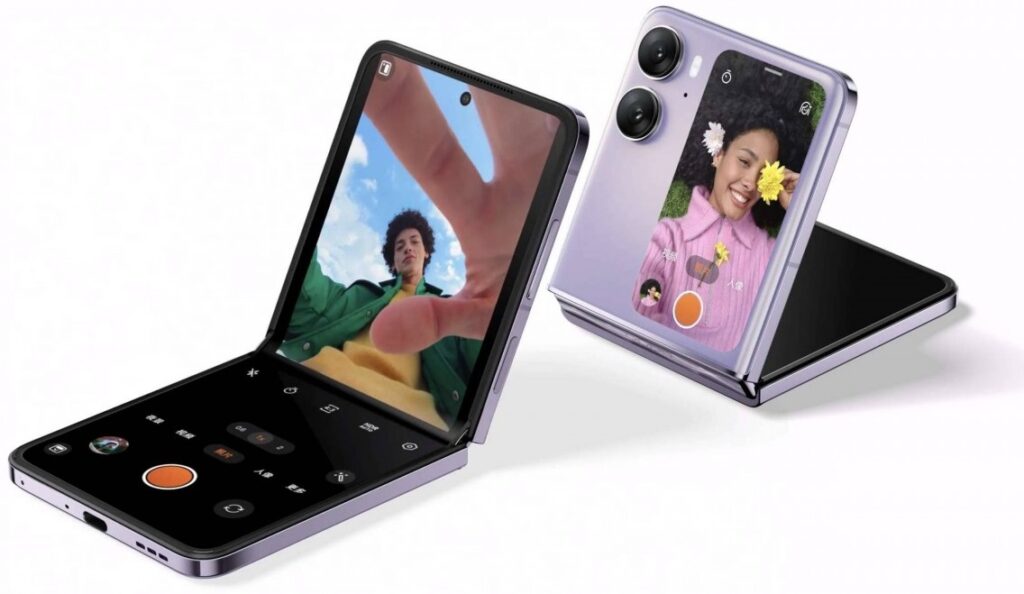 OPPO Find N2 Flip uses a new and smaller Flexion Hinge that solves major drawbacks of a flip phone, says the company. Flip phones usually have small cover screens due to their unwieldy hinges, a lower battery capacity with a longer charging time compared to traditional phones. Also, a clumsy folding mechanism, and a main screen that collects dust in the deep crease, the Find N2 Flip resolves all these problems with its new Flexion Hinge, OPPO said.
Instead of rushing to be the first to have a foldable device, OPPO emphasized more to its R&D. The company says it has tried a lot of different hinge designs before the first Find N phone with the original Flexion Hinge was released. The miniaturized hinge on the Find N2 Flip ensures the phone does not compromise in areas such as the battery.

A look inside the OPPO's New Generation Flexion Hinge
OPPO's Flexion Hinge uses special aircraft-grade high-strength stainless steel that is etched with precision and injected with a soft and pliable material. It is stronger than traditional hinge design, with 15% more tensile strength and 25% more yield strength, the company says. The aircraft-grade carbon-fiber reinforced polymer ensures better strength whilst being lightweight.
OPPO also adds that this new hinge has fewer parts, a cleaner design, and presents a more stable solution. The new cam system and 1/4 spindle assembly improve core functionality, so it can hold firm between 45° and 110° when folded. The Find N2 Flip also uses a new 'waterdrop fold when closed. This waterdrop shape has a larger bending radius and results in a lighter crease and lesser screen deformation when compared to a U-shaped hinge.
The miniaturized hinge on the Find N2 Flip enables a larger 3.26-inch cover screen on the front side with 48.5% of the top half. The user can enjoy more content, including important settings and widgets, notifications, a larger preview screen for photography, and even interactive e-pets.
OPPO Find N2 Flip features two battery cells with a combined 4,300 mAh of power and 44W SUPERVOOC flash charging. A larger battery with fast charging is possible due to its smaller hinge while there are flip phones with a battery size between 3,500 mAh and 3,700 mAh.
The OPPO Find N2 Flip is TÜV Rheinland certified to withstand 4,00,000 folds and unfolds which is equivalent to opening and closing the phone 100 times daily for more than ten years as per the company. It has been tested to surpass over 1,00,000 fold and unfold cycles under extreme conditions ranging from -20 degrees C to 50 degrees C and 95% humidity, the company adds.
The Find N2 Flip's folding mechanism also prevents dust and particles from gathering along the crease line where it bends and the bend is almost unnoticeable for the users. The Reticular Matrix Plate combines with the display layers to create a perfect fold.
The Find N2 Flip offers a bigger cover screen, a bigger battery, and fast charging. There are two screens on the phone – one is a 6.8-inch foldable display and the other is a 3.26-inch cover display. About the specs of the flip-phone, the OPPO Find N2 Flip is powered by a 4nm MediaTek Dimensity 9000+ SoC with up to 12 GB LPDDR5 RAM and 256 GB UFS 3.1 storage.
The Find N2 Flip runs on ColorOS 13 based on Android 13 and offers a dual-camera Hasselblad camera system. The cameras include a 50 MP f/1.8 23mm Sony IMX890 and 8 MP f/2.2 112-degree ultrawide FOV on the rear side and a single 32 MP f/2.4 22mm Sony IMX709 selfie camera on the front side.
Get OPPO Find N2 Flip on OPPO.com/in