Paytm introduced the Paytm Payments Bank, India's first bank with zero fees on online transactions, offers a 4% interest, no minimum balance and much more. In an attempt to take out the competition of the two existing banks, Airtel Payments Bank and India Post Payments Bank, Paytm rolled out its banking operations in India.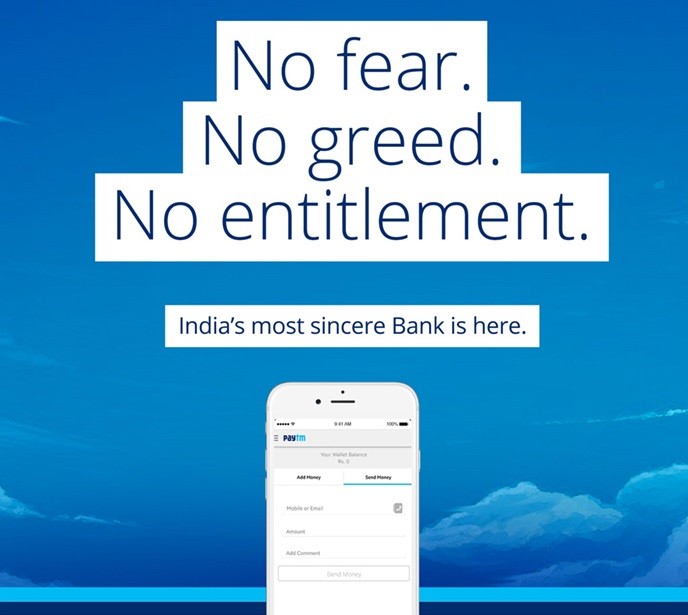 The Paytm Payments Bank will bring a new banking model to the world where an account holder's money will be absolutely safe. Deposits will only be invested in government bonds that are used for the development of our nation. We will offer an annual interest of 4% for all savings accounts. Our merchant partners will also have access to current bank accounts.
Paytm offers a 4% annual interest on savings account. To earn interest, you will need to open a Paytm Payments Bank savings account. On the contrary, Airtel Payments Bank is offering a 7.25% interest while the India Post Payments Bank offers between interest from 4.5% to 5.5%. In addition, Paytm is offering a cashback of ₹250 when you deposit a total amount of ₹25,000 in your paytm bank account.
Physical services like checkbook, demand draft, and debit card will be available at a nominal free. Paytm Payments Bank will issue a Rupay debit card to its customers at an annual subscription cost of ₹100 plus delivery charges.
Currently, Paytm Payments Bank is on an invite basis. To request an invite, visit the link paytmpaymentsbank.com or the latest Paytm app. In the first phase, Paytm Payments bank will roll out the beta version of the banking app for its employees and associates.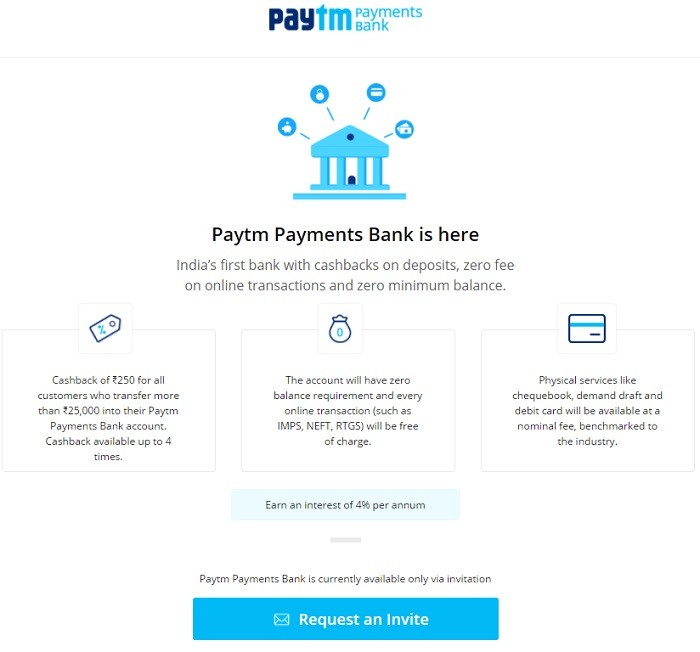 The first physical branch of Paytm Payments Bank will open in Noida. The bank plans to expand its physical presence to 31 branches and 3,000 customer service points in the first year. The company is targeting 500 million customers by 2020.
The company is also setting up KYC centers across India to help customers get KYC done and make themselves eligible for a Payments Bank account.