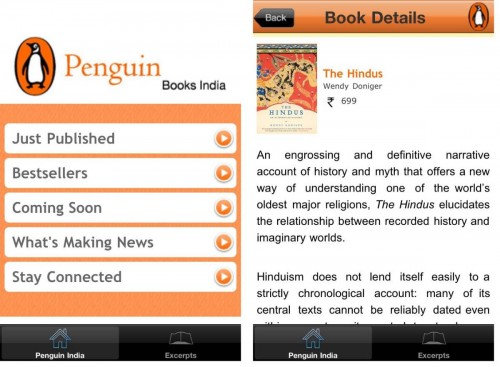 The Penguin App offered by the leading Indian publisher Penguin Books is a free application aimed at enhancing the reading pleasure and helping the reader find everything he might want to know about Penguin books. The app is available for Nokia and Apple devices.
The App has a 'Just Published' and 'Bestsellers' section with the latest books and there is also a "Coming Soon" tab where users can get a sneak-peak into the forthcoming Penguin books. Users can read up on latest publishing gossip in the NEWS section and sign up for events in their city with a single click on the EVENTS page.  Users can also watch videos, recommend or discuss a book by just clicking on "Stay Connected" which redirects the user to the ongoing discussions on the Penguin India Facebook, YouTube and Twitter pages.
The Penguin App showcases the best books from Penguin including its top fiction and non-fiction bestsellers, covering a wide range from classics and best-loved books to the newest books written by the freshest talent, from books on business and management, politics and current affairs and memoirs to the fun, feisty Metro Reads, MindBodySpirit books, books for children and young adults, and Penguin's Hindi books.
"As our society grows more mobile, readers are clamoring for information to be delivered to them in new and creative ways," says Andrew Phillips, CEO & President, Penguin Books India. "This is only the beginning of our long-term strategy to provide readers with all the information on their favourite books and authors in exciting new formats, wherever they are and whenever they want it" he adds.