Good news coming in for all the Nokia Lumia owners in India. Nokia India has announced the roll out of PR v1.2 for its Windows phone OS running Nokia Lumia 800 and Lumia 710 in India.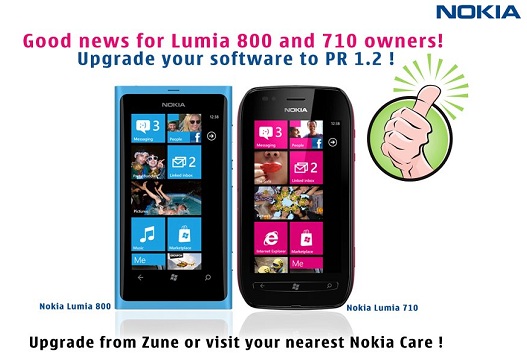 The latest update goes on to bring enhanced battery life, improved audio performance and much more.

Nokia India on its official Facebook page announced that Nokia Lumia 800 and 710 owners can upgrade their devices to the latest PR v1.2 via Zune (Software Updater) or they can also visit any Nokia Care Centre and get their Lumia devices updated.
 
Wondering what you will get the latest update? Then read on for more.
 
"The PR 1.2 update brings enhanced battery life, improved bass in audio performance, fixes for self-reboots, freezes, soft-key illumination at all brightness levels. This update also fixes the question mark bug in place of battery capacity on the device. The update release also answers some problems with the Lumia 710 device like the calls not getting disconnected, a bug that was discovered and reported by multiple users across globe."
 
So if you own a Lumia device then run your Zune updater or visit the nearest Nokia Care Centre now.