A few days back we told you about the Telecom Regulatory Authority of India (TRAI) which is the watchdog for all things related to telecom sector in India release a directive to all telecom operators in India to curb the nuisance of missed calls from International numbers and scam texts.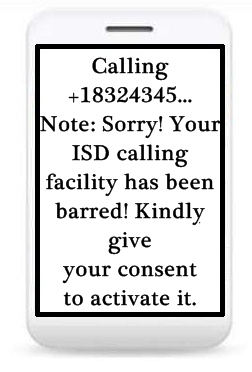 And due to this directive of the TRAI all prepaid mobile users may go on to lose their ISD calling facility.
This is because the TRAI has asked all operators to de-activate the international calling facility with prepaid numbers and the service should be activated only after the users give their explicit consent for availing such facility.

Operators have to send a text to all prepaid users informing them that their ISD calling facility will be terminated within 60 days and only after a consent is obtained from the user within sixty days of the receipt of the SMS, the service will be re-activated and available for use.

TRAI has been forced to release such a directive to protect the interest of the mobile subscribers as it found that users got missed calls from an unknown international number or got a text telling that they have won millions of dollars or pounds in an international lottery and ask them to call the a particular number to claim it.

And when innocent users call up the given numbers, they are charged very highly as those numbers turn out to be premium international numbers and thus users lost much of their balance within minutes.

We would like to advise our users to ignore the missed calls and text of unknown numbers as they might be a part of a scam and also if you wish to continue having the ISD calling facility on your mobile number, then do not forget to give your consent to your mobile operator to have the facility activated.