Ever since Fast charging technology made a splash in the world of smartphones, notably with Oppo's first-gen VOOC Flash Charge, and Qualcomm's Quick Charge 1.0, the technology has been making strides. Fast charging can be a life saver for people who use their smartphones more since it improves charging times.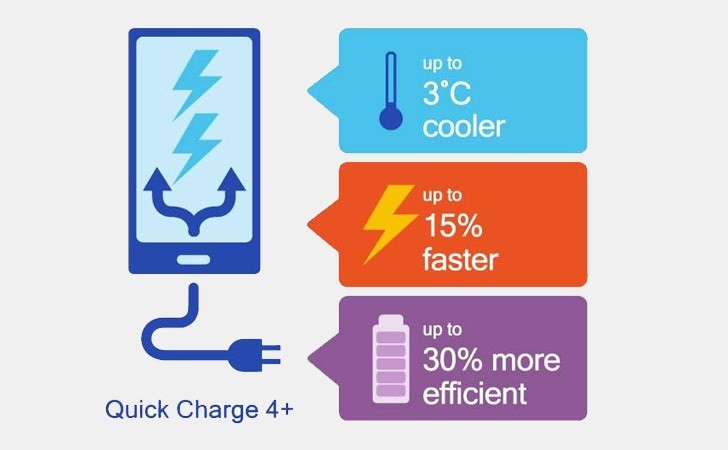 Now Qualcomm has just launched a better version of Quick Charge 4.0. It is called Quick Charge 4+. We would like to point out that Quick Charge 4.0 itself is very new and not yet implemented in smartphones. And it has only been around 8 months. So Quick Charge 4+ is a surprising but welcome addition.
Quick Charge 4+ improves in three key areas over its predecessor. One is charge times. The keyword here is Dual Charge. Dual Charge now sends current through two different lines and manages to reduce charging time by 15%. Qualcomm already promised 50% charge in 15 minutes with Quick Charge 4.0, so we can only see that improve from here.
The next improvement is heat management. Qualcomm has introduced Intelligent Thermal Balancing which automatically chooses collect paths to transport power thereby making devices cooler by 3 degrees when charging.
And lastly, a slew of new improvements which are meant to make the technology safe, especially after the Note 7 debacle. As people have more concern with batteries than ever before. Quick Charge 4+ intelligently actively keeps a watch on both the phone as well as an adapter to prevent hazards like short-circuiting or damage to the device. All in all, it is 30% more efficient than before.
Quick Charge 4+ will also be backward compatible with Quick Charge 3.0 and 2.0. The first device to integrate this exciting tech will be the Nubia Z17. Get ready for a very fast charging future folks!