Following suit with other telcos, RCom has introduced a new offer for its dongles. This is a bundled offer, meaning you get a 4G SIM card, a Wi-Pod dongle and a 365 days plan of data. That is all for Rs. 5,199. If you break it up, the dongle which looks closely similar to a JioFi device will cost Rs. 3,200. That leaves Rs.2,000 for the 4G SIM and 1 GB of 4G data for a full year.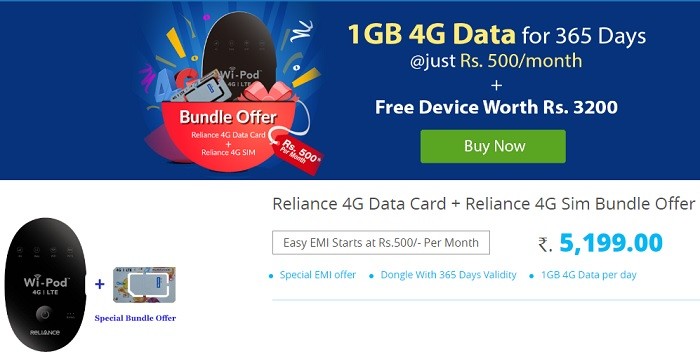 The Reliance Wi-Pod easily fits in the palm of your hand and has 4G LTE. It promises download speed up to 150Mbp. The dongle also has a Micro-USB port. The 2,300 mAh battery can last you up to 5 to 6 hours. It has a micro SD card slot for 32 GB capacity max. It can connect up to 10 devices and provide HD voice calls and 4G LTE.
The Wi-Pod dongle can be bought from RCom's e-shop. There are EMI offers as well if customers don't want to make an upfront payment. EMI's start at Rs. 500 for credit cards. Reliance JioFi is a much more lucrative device if you look at just the dongle's price. The JioFi device costs just Rs. 1,999 but does not come with a year's subscription. Instead, users can opt for plans starting from Rs. 149 to Rs. 999.