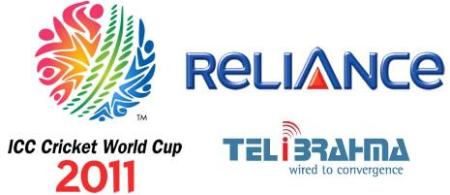 Watching cricket match in a stadium is fun, to make it more exciting Reliance Communications tied up with TELibrahma to offer 'Video Updates and Replays' on Mobiles during the Cricket World Cup 2011. Under this exclusive deal TELiBrahma would deploy BluFi in stadiums and enable consumers to receive video highlights when they are watching the match in stadium. With the World Cup being played in different parts of the country, this becomes the world's first and biggest in-stadia deployment.
This tie-up will also enable consumers in BluFi locations across the country and those using intARact augmented reality browser to view highlights and action replays of cricket matches for free.  This solution is supported on more than 80% of the mobile phones in India and works across phone models, operators and geographies.
Announcing the video updates service, Mr Mahesh Prasad, President Wireless Business, Reliance Communications said, "As ICC's Global Partner till 2015 we are proud to be associated with the game that is growing in popularity across the globe. The innovation and advanced technology that RCOM incorporates is ideal for today's consumer who is always on the move. This time our customers will enjoy cricket with our new service video updates from ICC World Cup."
Commenting on the tie up, Mr. P R Satheesh, President, TELiBrahma said, "TELiBrahma is pleased to be associated with Reliance Communications and do next big thing on mobile. We believe it would help consumers to catch the missing action and advertisers to achieve better ROI from their investment in cricket. This opportunity will help brands to deliver what is relevant to consumers at the place where it matters and on a device that creates the impact".
Also See :
Free World Cup SMS