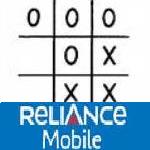 Reliance Communications today announced the launch of Games on USSD. (Unstructured Supplementary Service Data). Users can now play games on USSD on any GSM handset with a Reliance Mobile connection.
USSD is a capability of all GSM phones. It is generally associated with real-time or instant messaging type phone services. The response times for interactive USSD-based services are generally quicker than those used for SMS.
Games on USSD is being launched with one of the most popular games Tic Tac Toe also commonly known as Noughts & Crosses.The simplicity of tic-tac-toe makes it ideal as a educational yet fun tool for teaching concepts of strategy. Here users will pit themselves against the program itself. The player who succeeds in placing three respective marks in a horizontal, vertical or diagonal row wins the game.
To subscribe to the service, users have to dial *123*212# for a day pack that is costs @ Rs. 5/day. Users can also subscribe to the Monthly Pack @ Rs. 30/30 days and play unlimited games. To activate the monthly subscription, users have to dial *123*213#. As a trial option, users can also pay Rs. 5 per game before subscribing to the monthly service.