Reliance Jio announces ₹1699 plan for prepaid customers, offering 100% cashback on prepaid recharges
Diwali – the festival of lights – is just around the corner, and to celebrate this Indian festival, telecom operator Reliance Jio has announced a cashback offer for its prepaid customers. In addition to that, the telco has also announced a new plan for its prepaid customers that's priced at ₹1699.
Reliance Jio ₹1699 Prepaid Plan Details

Let's talk about the ₹1699 plan first. For ₹1699, Reliance Jio prepaid customers are offered 1.5 GB of high-speed data per day for a period of 365 days, i.e., one year. This translates to a total of 547.5 GB of high-speed data offered to the customers for a period of one year. However, once customers exhaust the 1.5 GB of high-speed data in a day, they can still continue to use Internet, but at a reduced speed of 64 Kbps.
In addition to 1.5 GB data per day, Jio prepaid customers doing a recharge of ₹1699 are also offered "truly unlimited" local and STD voice calls, free calls on national roaming, 100 free local and STD SMS per day, and, complimentary subscription to Jio apps.
Reliance Jio 100% Cashback Offer Details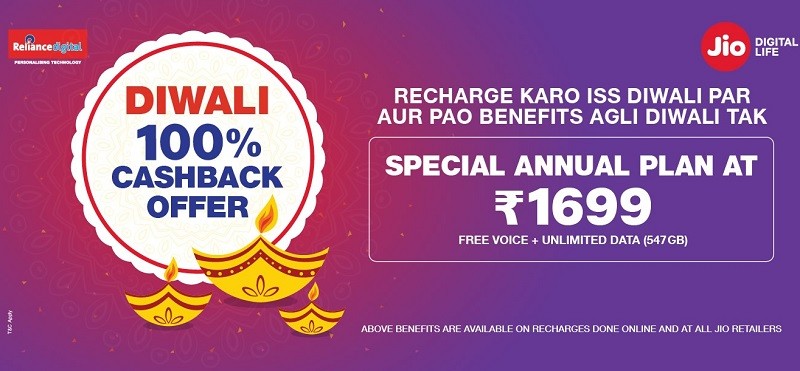 Reliance Jio has also announced its Diwali 100% Cashback Offer which is also applicable on the newly announced ₹1699 prepaid plan. As a part of this offer, Reliance Jio prepaid customers are offered 100% cashback on their recharges. However, this cashback comes in the form of coupons that will be credited in the MyJio app and can be redeemed at any Reliance Digital Store. However, the coupons can only be redeemed if you make a minimum purchase of ₹5000.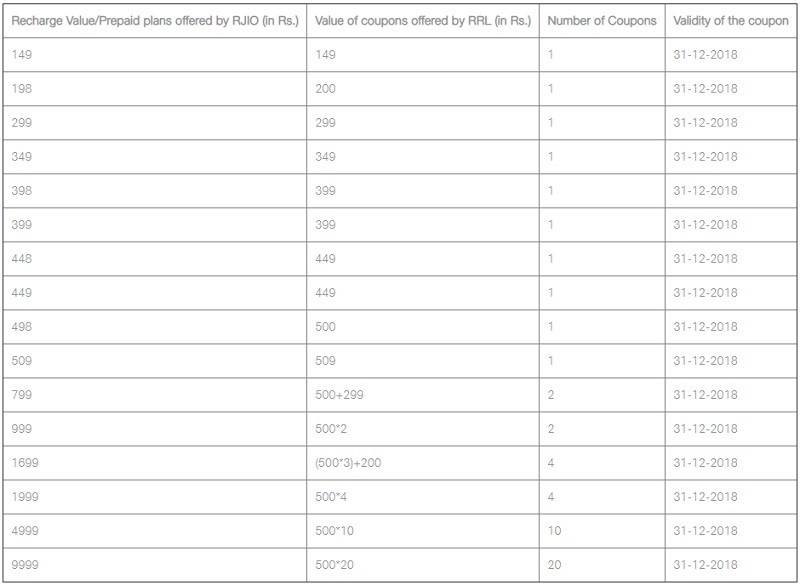 Furthermore, these coupons are only valid till December 31, 2018, and, the coupons are only offered to those prepaid customers who do a recharge of the aforementioned plans between October 18 and November 30, 2018. You can check out the table above to see the value and number of coupons you will get upon doing a recharge of a certain prepaid plan.