For sometime now, we have been hearing about Reliance Jio planning to launch a feature phone which would be 4G VoLTE enabled. Well, at the company's Annual General Meeting today, Mukesh Ambani finally announced the 4G VoLTE enabled Jio feature phone dubbed JioPhone.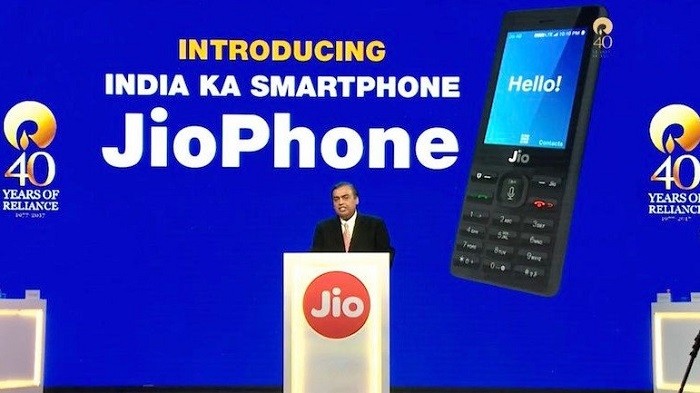 The JioPhone being a 4G VoLTE feature phone means that those who cannot afford to buy even the entry-level 4G VoLTE smartphones will now be able to get on the 4G bandwagon. The JioPhone is 'effectively free', however, customers will have to pay a refundable security deposit of ₹1500 which will be returned to them after 3 years. The company said that the deposit is collected to prevent any kind of misuse.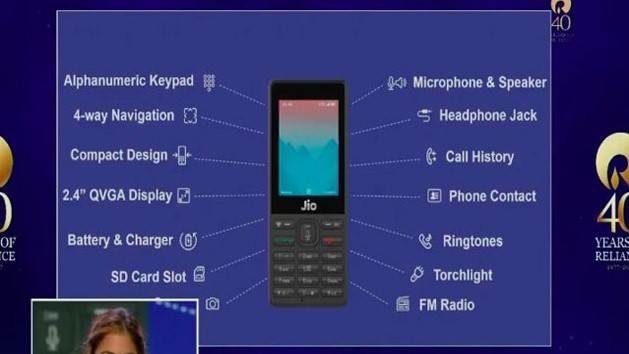 The JioPhone comes with a 2.4-inch QVGA display, 4-way navigation, alphanumeric keyboard, SD card slot, FM Radio, Headphone Jack, rear and front camera, and, all other features that you would find in a typical feature phone.
The JioPhone also comes with support for 22 Indian languages as well as support for voice commands. In case of emergency, users can also send a distress signal by pressing the number 5 on the keypad, which will also send the location data to the emergency contact. Not just that, the phone also comes with NFC chip to support cashless transactions through tap-and-pay solutions.
Having said that, the JioPhone will have access to Jio services like JioTV, JioMovies and more. Moreover, JioPhone users will be able to get the Jio Dhan Dhana Dhan offer for ₹153/month which will give them unlimited data, free SMS as well as voice calls.
Jio also announced the JioPhone TV cable which will let users connect the JioPhone to their TV (even the ones which are CRT) and watch the JioTV content on it. This service can be availed for ₹309/month which includes the Dhan Dhana Dhan offer as well.
Apart from that, Jio also announced two low value packs for those who can't afford the ones mentioned above. These are sachet packs which cost ₹24 for two days and ₹54 for a week, while offering the same benefits the ₹153/month plan offers.
Speaking of availability, the JioPhone will be available for beta testing from August 15 and pre-booking will start from August 24. It can be pre-booked from MyJio app or any Jio retailer, and, will be available on a first-come first-serve basis from September. The JioPhone will be made in India and the company plans to roll out 5 Million units of the phone every week.
So, are you interested in getting a JioPhone? What are your thoughts on it?