Reliance Jio is expected to launch its 4G services in October. While it's still a couple of months away, we keep hearing something about the Reliance Jio at regular interval. Today, we are looking at Reliance Jio's JioLink Indoor WiFi Plans that have been revealed.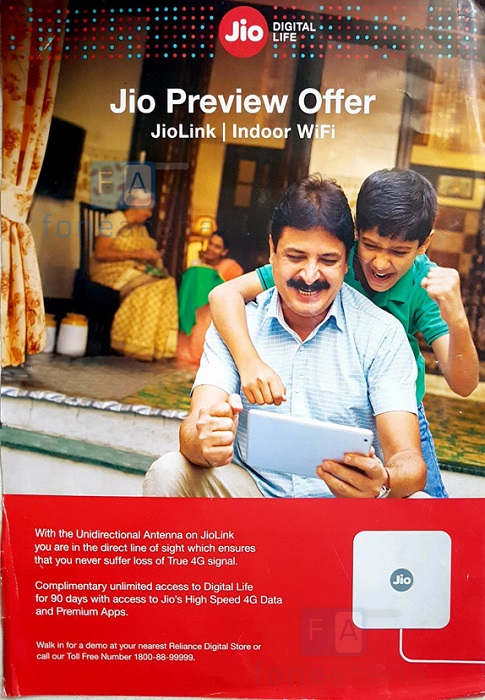 According to the information received from a reader by FoneArena, Reliance Jio will be offering JioLink as well. JioLink will consist of unidirectional antenna which will act as a signal booster. Users do get nice speeds outdoors on Jio, but, when indoors, the speeds tend to drop because of signal reception and coverage issues. JioLink will tackle this issue.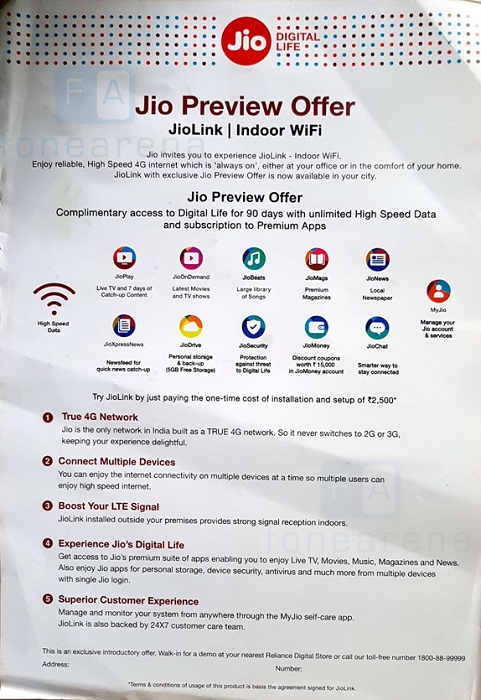 The promo brochure received by FoneArena reads "With the Unidirection Antenna on JioLink you are in the direct line of sight which ensures that you never suffer loss of True 4G signal."
As we said above, the JioLink will act as a signal booster. The device can be installed at the roof/terrace of a building and can then be connected to your home Wi-Fi router. Simply put, the device installed outdoors will have good signal reception, hence, it will receive those signals and relay them to your home eliminating coverage issues faced indoors. Because of this, those users who own devices which don't support Reliance Jio's bands will also be able to enjoy Reliance Jio's high speed Internet over Wi-Fi.
Talking about the Jio Preview Offer, users will get unlimited access to Jio 4G data and Jio Premium apps for 90 days which includes apps like JioPlay, JioOnDemand, JioChat and more. Those who want to try JioLink will have to pay ₹2500 as one-time cost of installation and setup.
If you are interested in this offer, you can visit your nearest Reliance Digital Store for more information. Also, it's worth noting that those who own any of these Samsung devices or iPhone can avail the Jio Preview Offer.