With Reliance Jio steadily picking up subscribers, telecom regulator TRAI has now patted the new operator on the back for offering the highest mobile internet speeds in the country.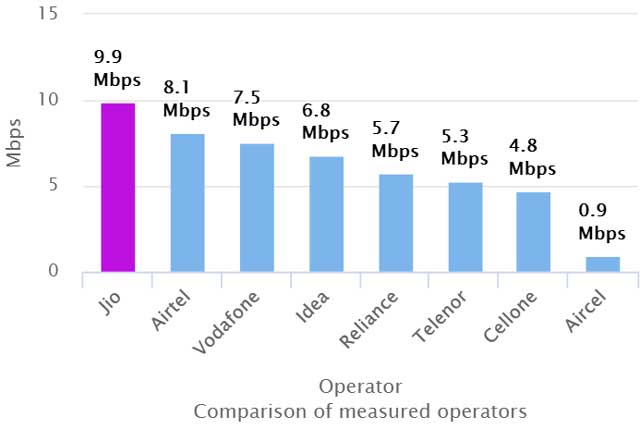 According to statistics availed from the Telecom Regulatory Authority of India (TRAI), Reliance Jio offers the highest mobile 4G data speeds in India compared to other operators. The data, which was collected in the month of December 2016, reveal that the new entrant offers its subscribers an average download speed of 9.92 Mbps when using 4G mobile data.
The closest competition to Jio was from Airtel with average speeds of 8.1 Mbps followed by other leading telecom operators like Vodafone, Idea Cellular ranging between 7.5 Mbps to 6.8 Mbps. However, when it came to upload speed, Airtel was leading with 4.1 Mbps whereas Jio was marginally lower at 2.6 Mbps.
Given the complaints of decreasing data speeds with the growing customer base, the new speed results make it quite clear that Reliance Jio has indeed improved its network infrastructure. However, having said that a little study into the data shared by TRAI reveals that Jio is at an unfair advantage owing to its network. For example, the speed in most of the circles is actually between just 5 Mbps to 7 Mbps, except in extreme points like Kashmir and NE states where it touches 9 Mbps.
Check the speed using TRAI MySpeed Portal