After extending the Jio Prime membership enrolment service till April 15, Reliance Jio has now introduced the new tariff plans for the Jio Summer Surprise offer.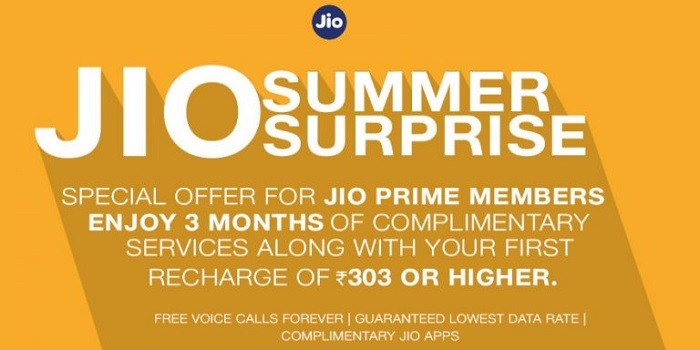 Reliance Jio has listed out the detailed revised plans applicable for the Jio Summer Surprise offer available for all Jio Prime subscribers. As mentioned earlier, Reliance Jio Prime subscribers who recharge with Rs. 303 and above, will be entitled to three months' free service.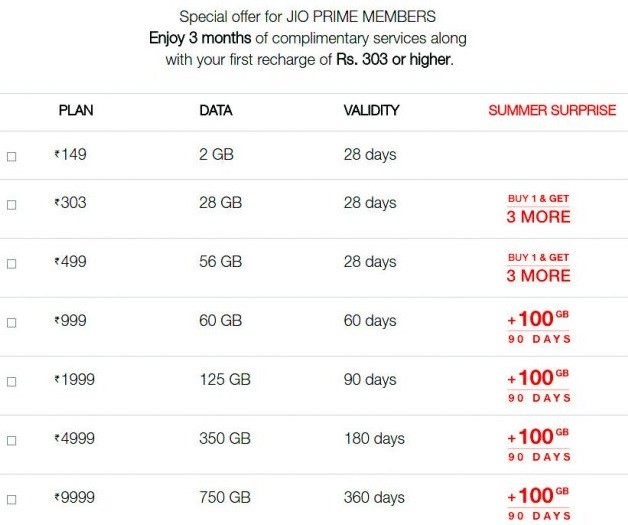 The three months' free service is applicable for the Rs. 303 and the Rs. 499 packs, with the Rs. 303 pack offering 1 GB data per day whereas the Rs. 499 pack offering 2 GB per day.
For the plans ranging between Rs. 999 and Rs. 9999, Reliance Jio is offering Jio Prime subscribers an additional 100 GB of data valid for 90 days. As such, the Rs. 999 pack, which offered 60 GB, would offer 160 GB; the Rs. 1999 pack, which offered 125 GB, would offer 225 GB; the Rs. 4999 pack, which offered 350 GB, would offer 450 GB and the Rs. 9999 pack, which offered 750 GB, would offer 850 GB.
However, to avail the above tariffs plans, Reliance Jio subscribers need to enrol for the Jio Prime offer by paying Rs. 99. Customers then need to recharge with any of the above plans before April 15.