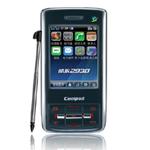 Reliance Webstore and Coolpad Communications have commenced the market roll-out of Coolpad smartphones in Tamil Nadu and Karnataka with the launch of Coolpad 2938 dual-mode smartphone. The Coolpad 2938 dual-mode touchscreen smartphone supports both CDMA and GSM connections, with two neatly labelled SIM card slots. The GSM SIM is tri-band, while for CDMA it supports 800 MHz. There are separate calling keys for GSM and CDMA. It allows selection of the preferred network (GSM or CDMA) and the option to make both networks to function simultaneously.

The touchscreen has enhanced response capabilities and supports handwriting recognition along with the traditional onscreen keyboard for typing messages.A tap on the homescreen takes users to the menu. All received and sent SMSes are saved automatically with 'c' or 'g' prefixes for differentiating between CDMA and GSM.

The Coolpad 2938 offers a good mix of entertainment and business applications coupled with a 2.0-megapixel camera, the option of self-timer, continuous shots, special effects and adjusting contrast and brightness.  It also has FM radio and a music player that supports MP3 / AAC / AMR / MIDI / MMF / WAV / 3GP file formats. Connectivity options include Bluetooth and GPRS.

The Coolpad 2938 dual-mode smartphone is priced at Rs 10,999 and will be available at Reliance World and Reliance Mobile Stores across Tamil Nadu and Karnataka.