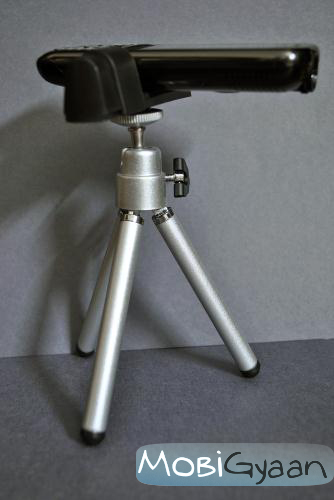 Intex's projector equipped feature phone, the IN8809 or better known as the V.Show is surely a great entertainment package if you are on a limited budget. Priced at about Rs.6500, you get a lot for the value offered.
Introduction
The handset is pretty decent looking and comes with a lot of accessories. The handset is feature packed with a 2MP camera, Bluetooth, FM radio, an mp3 player, microSD support of up to 16GB, Opera and Bolt browsers, Facebook app, an office app that reads MS office formats, etc.
Packed accessories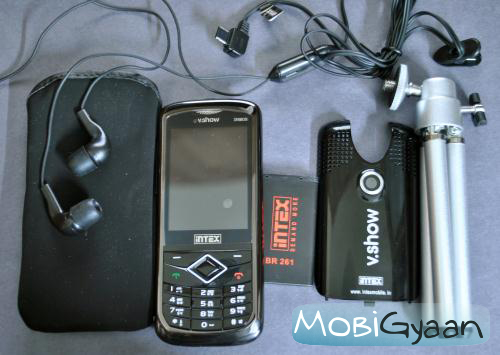 I just had to write a separate section for the accessories that come with the handset because Intex has given us a whole lot that you can expect. Here's a list denoting what all came out of the box other than the handset:
Headset with a pair of in-ear plugs

Two 1000mAH batteries

Tripod with clamp stand to hold the handset

USB data cable

Audio cable to attach speakers or headphones

Carrying pouch

A manual and a warranty card
Design
A little on the heavier side, the handset weighs at about 142gms which is not bad considering the fact that it has projector system built in it. The screen is a 2.4 inch QVGA display which seems good. It sports an alpha-numeric keypad with a navigation key which seems pretty low on quality as it gives a very plastic feel and has very small alpha-numeric keys which make it difficult to type. Other than that there is a volume rocker key on the side. There is a jack at the bottom which allows you to charge the handset or attach the bundled headset or even attach speakers through an audio cable provided in the package. At the back there is 2MP camera which has loads and loads of settings you can fiddle with.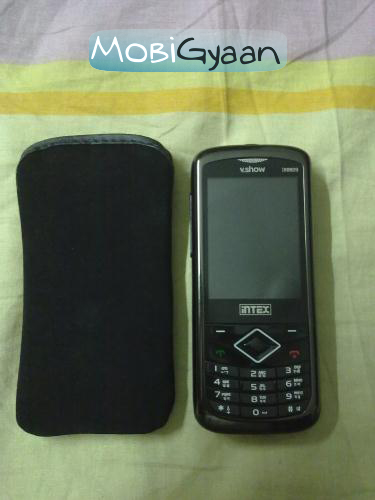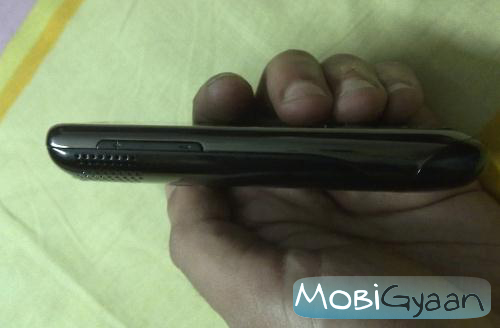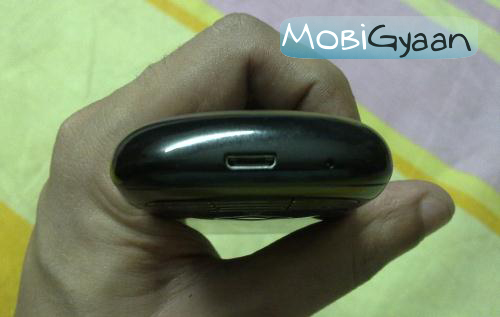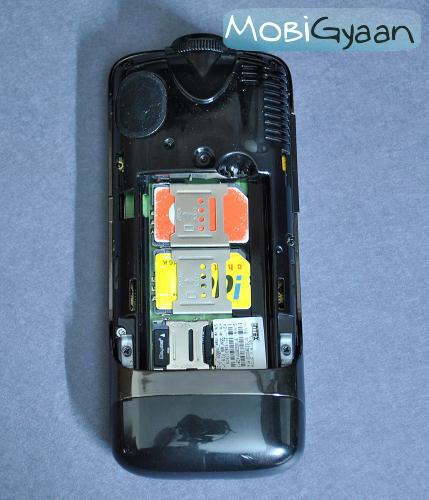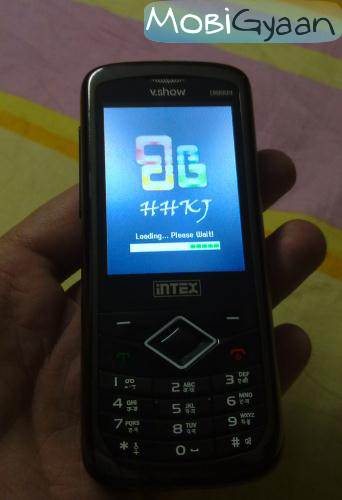 It has dual-SIM which allows you to use 2 GSM SIMs at the same time. It also has a microSD card slot under the battery which supports up to 16GB of memory, which is enough to carry movies and music on the go. Intex has been very generous on the battery department as they have provided not one, but two 1000mAH batteries with the handset. That is a whole lot of juice for the handset even if you plan to watch a 2-3 hour movie through the projector.
User Interface and features
The UI is very simple and a bit too colourful. The menu and the icons could have been improved with the looks, otherwise it seems decent. There are loads of apps and features loaded in the phone like an image editor, a slide show feature, Facebook and Google apps (they just take you to a URL), FM radio with scheduler, mobile tracker, Opera Mini and Bolt Browser (which I could not find anywhere in the phone), E-book reader, Office Reader, Java Games, Call recorder, Answering machine etc.
From what I tested, the browser seemed to be a normal Java based one without any name (no bolt or opera mini) or maybe I just didn't dig in the features deep enough. The browser worked fine on GPRS and loaded pages quickly.
Multimedia
Multimedia features include an Audio player and Video player which support all popular video formats including MP3, MIDI, WAV, AVI, MP4, etc. The video player can also play videos in portrait mode for wide screen videos. You can also record your phone calls via the call recorder.
Other than that there is an image editor through which you can add various effects to your pictures and edit them as well. The FM radio is a nice feature as it has an option to record songs off the FM and you can even schedule it as to when it should record. The phone is Java enabled and comes with a Java game called Puzzle. You can install Java games and applications as well.
There is also an e-book reader in case you are a bookworm, although it is not very feature rich.
The camera can click photos up to 2 MP and has settings for exposure, white balance, effects, scene modes, and even an anti-flicker mode. Images captured are average and a better camera without the unnecessary effects could have been a better option.
Projector
The main attraction is the projector system. The phone has the projector lens on the top and it has a focussing ring which helps you to adjust the focus of your projected image. You can get up to a 36 inch display from the projector which quite big. The image or video comes out to be very clear if you use it in a total dark environment. The only flaw I see is that you can activate the projector mode only through the phone's menu. After you have selected the projector mode, the whole screen of the phone gets projected and the main display goes blank. Providing a key to activate the projector mode could have been a great addition.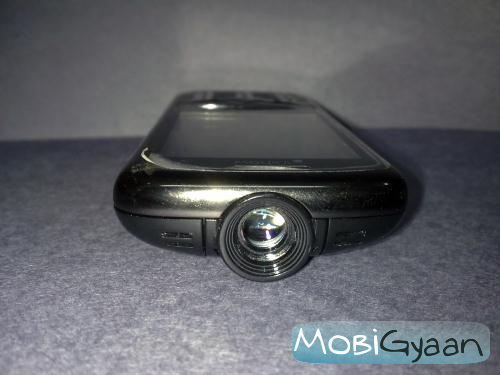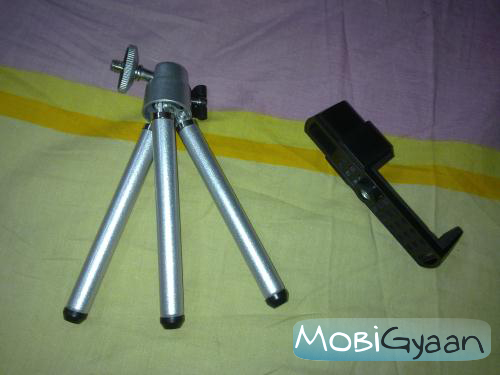 While watching movies you can also listen to the audio on speakers or on a pair of headphones through an audio cable provided in the package which turns the phone's jack into a 3.5mm stereo jack.
All in all I would say that the projector is a very good feature and gives a pleasurable experience.
Also check out a quick review video which also includes the demonstration of the projector.
>
Conclusion
The handset is not a very good looker, but the number of features in the handset are more than what I can count on my fingers. The bundled accessories are a joy, surely a +1 for the handset. If you are looking for a fully loaded feature phone at a budget and you do not care about the company's brand value, then this is the thing for you. Priced at about Rs.6500/- it will be a tough competition for Spice as they had also launched a projector phone which cost more than Rs.7000.
Feel free to ask queries as I might have missed a few features here and there.