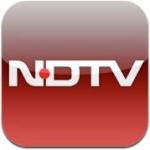 After the launch of Hindustan Times iPhone application, the trend is getting quite popular with the main stream media. NDTV recently
launched its own application for iPhone. iPhone users can access the news sites via the mobile browsers, but apps have the ability to enrich the experience and increase the intuitiveness. After NDTV iPhone app was declared as one of the most downloaded iPhone app in India, we got quite curious and wanted to take a test drive. The result:  it's impressive.  
First to start off with, it has push notification. It can push news alerts on to your iPhone, in real time as it happens. But I was not able to select a particular category for the push notification. That would have been better, rather than being notified about all sorts of news. The categorization was very neat and clutter-free. The site features 2-step categorization. The navigation bar on top, categorizes news articles based on the subject (news, entertainment, cricket, lifestyle, business, gadgets, etc…). The menu bar at the bottom, categorizes based on the news format (Articles, Photos, Videos, etc…). On the title bar, there is a ticket tab. This features stock alerts and sports score. Any other section that don't fall under the pre-defined categories are grouped under "More".
There is an interesting section called the NDTV Social. In this category, there are many pre-defined sections for NDTV's Award-winning journalists. Users can read and comment their views directly to the editor. You need to log in using any of the open IDs, to be able to comment on the articles. You need not create new log-in id for NDTV app. The picture gallery is quite pleasant to navigate or to watch slide-shows. Unfortunately, I was not able to check the videos section, as my EDGE/GPRS connection was not sufficient for the videos. I'll come back to this, when 3G in India becomes a reality.
This application is from the makers of KSRTC online website, Robosoft, Mangalore. Though its free application, its ad-supported and the ads occupy a considerable percentage of the screen. The icons and other interaction are based on iPhone UI standards, but the news content area doesn't have a consistent layout.
Overall, it's a welcome step towards the mobile media era. The promised live streaming section and 3G connectivity has the potential to make this application a 'must-have' iPhone app.