Windows Phone has come a long way and it finally seems to be maturing. From Mango to Tango, the OS has improved a lot and it seems that Microsoft is finally going somewhere. Nokia has been a big reason for Microsoft's success as its range of Lumia handsets are still the most selling Windows Phone

smartphones

out there.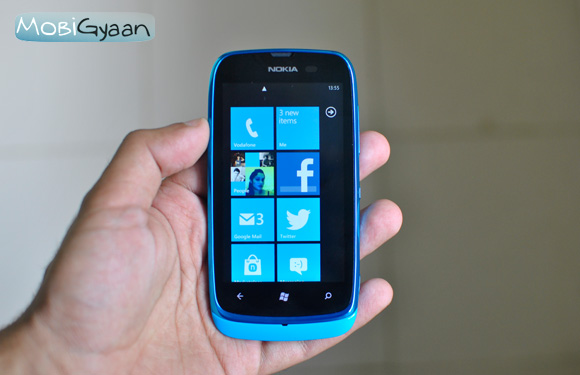 Nokia went a step ahead and thanks to the Windows Phone 7.5 update, it managed to launch a low to mid-budgeted

smartphone

. The Lumia 610 may look and sound like a compromised Windows Phone running device, but it has a few tricks of its own.
Let's check it out.

SPECIFICATIONS:

800MHz ARM Cortex-A5 CPU

Qualcomm MSM7227A chipset

, Adreno 200 GPU

256MB of RAM

3.7 inch display with 800×480 pixels resolution

5MP camera

8GB of internal memory

Wi

-Fi

Bluetooth

HSUPA and HSPDA connectivity

microUSB

Windows Phone 7.5 OS

1300mAh battery
PACKAGING: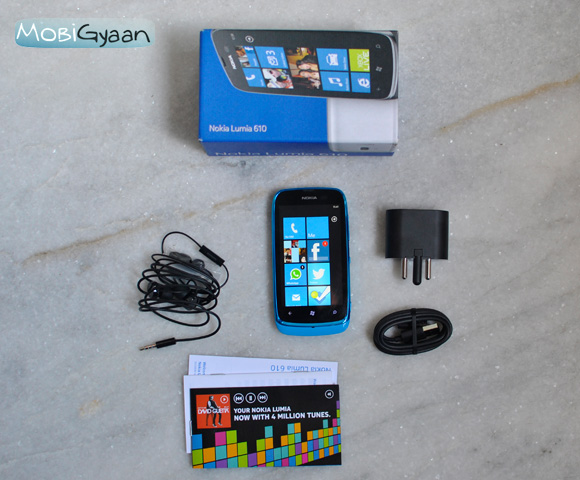 A fairly decent package with a wall charger, a USB data cable, and nice pair of in-ear headphones. You also get a free unlimited subscription of Nokia Music with the handset.
BODY AND DESIGN: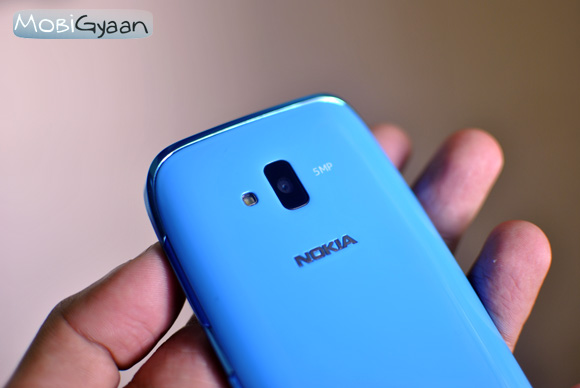 The handset is very glossy and has a very plastic feel to it, but it doesn't somehow feel that cheap. It has a decent weight and feels pretty good in the hand. While Nokia has tried its best to provide an affordable Windows Phone, somehow it isn't up to the mark.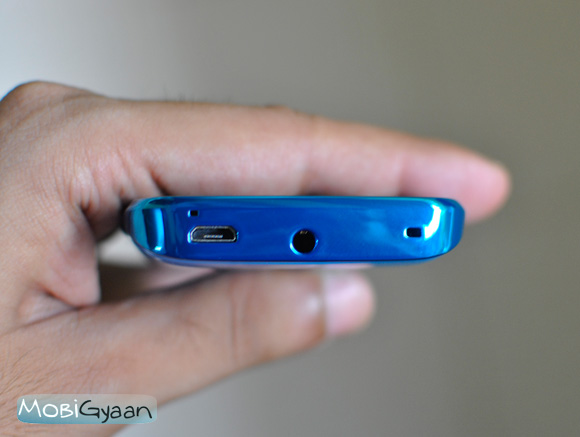 The whole handset is a fingerprint magnet due to the glossy plastic material, which is a bit annoying. Other than that the display is pretty nice and is bright and is quite visible in sunlight. The response of the touchscreen is apt and quick and we didn't notice any lags as such.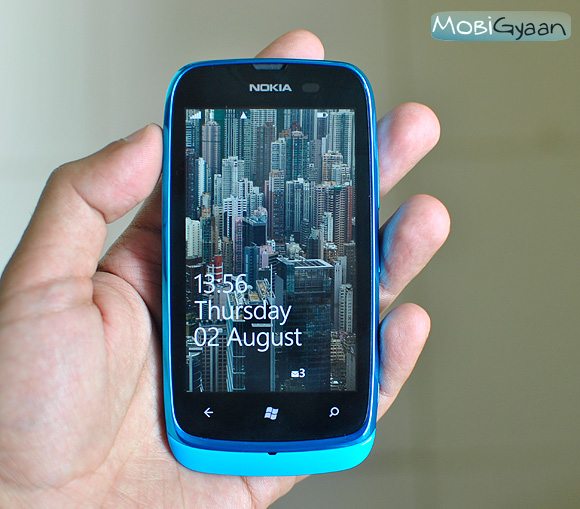 So we have the 3.7 inch display, with the usual three Windows Phone capacitive buttons below it. There's the volume rocker key, lock/power key and a camera shutter key on the right side,  the 3.5mm audio jack and the

microUSB

port on the top and at the back we have the 5MP camera with an LED flash and the speaker. One thing that we noticed was that the embedded Nokia logo at the, actually started coming off after just a few days of usage, which is quite strange. The back slides out to reveal the 1300mAh battery and the

microSIM

slot underneath it.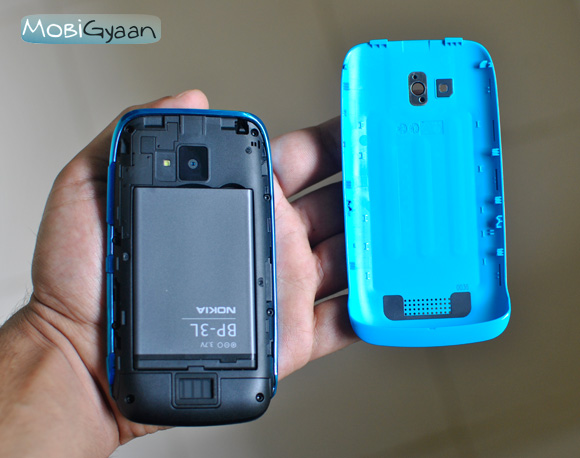 Overall the looks aren't all that bad. For a mid-budgeted

smartphone

, the Lumia 610 feels and looks great.
OS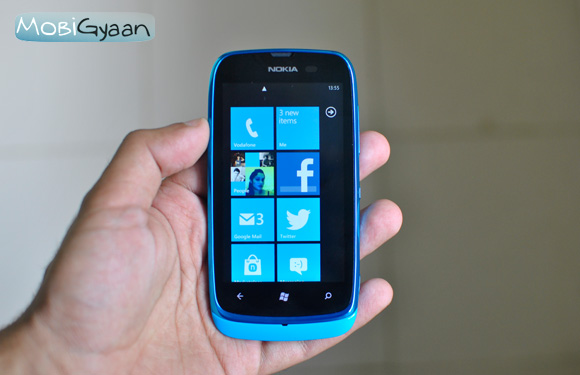 The Lumia 610 comes with Windows Phone 7.5 Refresh out of the box and it

does run

fairly smooth

on

just 256MB of RAM. The OS itself

feels

to be as stable as it is on other high end Windows Phone devices, and there aren't as such lags. However, there

were

a lot of cons regarding the OS like, the lack of Flash support in the browser, lack of video

codec

support, slow and sluggish apps, lack of HD support, and so on.
I personally love the Windows Phone UI and the whole layout of the OS, but somehow I still think it needs to mature. Hopefully Windows Phone 8 will iron out the small little things that Windows Phone 7.5 couldn't accomplish.
Coming back the handset, I managed to run all the basic social media apps, a few games, and the pre-installed Nokia apps which are actually pretty good. Due to the low RAM, the app support goes down. I was also a little frustrated with the loading speed of the apps, or maybe it was just my slow internet. Certain apps like Angry Birds and Skype don't work on the device, which is a big letdown.
Nokia has kindly blessed us with some nice apps which make the experience of Windows Phone OS on the Lumia 610 somewhat satisfying. Apps including Nokia Maps, Nokia Music, camera extras, and the creative suite make the Lumia 610 look like a

smartphone

. I am saying this because almost every low to mid-budgeted handset is capable of running similar apps and more. If Nokia had not added these apps, it wouldn't have sufficed as a

smartphone

.
Nokia Maps, as we've seen earlier, gives you a great navigation experience. Nokia Music is also pretty cool as it organizes all your music and also lets you download free music thanks to its unlimited music subscription. The camera extras and creative suite are also some nice additions as they let you add various effects to your pictures.
All in all, the OS is pretty snappy. However I am not thoroughly impressed

by

the overall user experience.

MULTIMEDIA: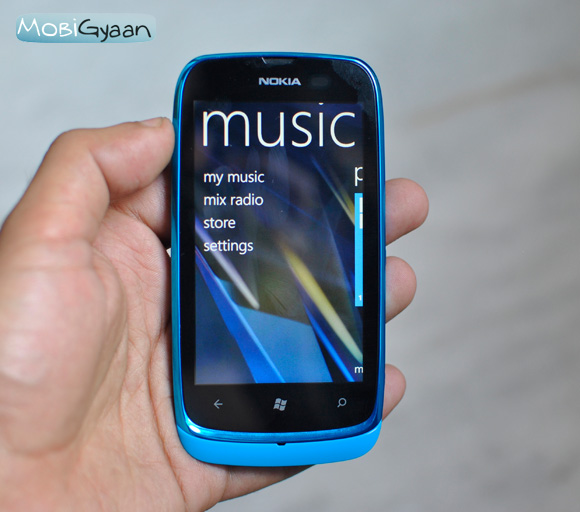 The handset isn't bad in the multimedia department as it has a decent music player, FM radio and thanks to Nokia Music, you can have access to millions of songs for free.
There is however a small drawback, you can't just drag and drop your songs on the handset, you'll have to use the Zune software to transfer music and videos. Also the handset doesn't support a large number of video formats, so you have to convert your videos from the Zune software itself.
The audio output is great, even the loudspeaker gives enough volume if you are listening to your songs in a decent sized room The music player, video player and the FM radio app have a very nice basic look for which I give full marks to Microsoft. However the lack of HD and various video codec support, the Lumia 610 does lose some marks. Overall, a good job in the multimedia department.
CAMERA: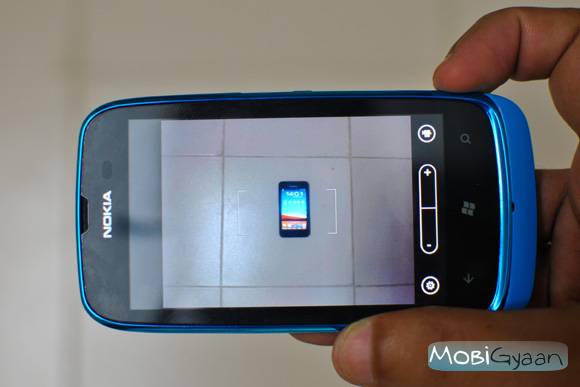 The Lumia 610 has 5MP camera at the back which is a pretty decent. There is a single LED flash, although it isn't that strong it does help a bit in low light conditions. Simple OS, simple UI. That is what Microsoft has gone with.
You can fiddle around with scenes modes, white balance, contrast, saturation, sharpness, ISO and a lot more, flash, focus modes and some more features if you install the camera extras from the Windows Phone Marketplace. The shutter button is very nice and a slight press allows you to focus and when you fully press the button you get your picture.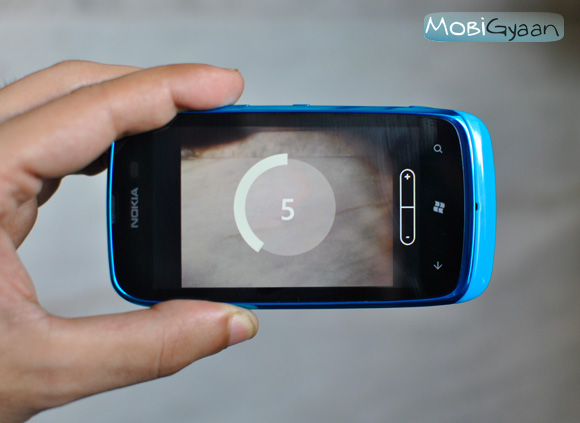 The image quality is however isn't all that well. The colours and contrast don't come out that well and I have actually seen cheaper handsets with 5MP cameras that produce better results.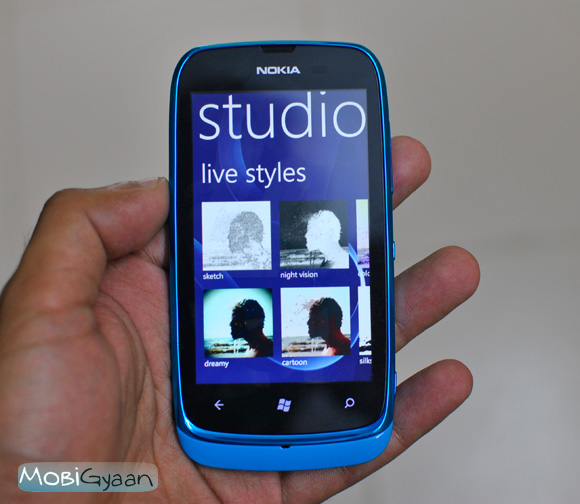 Video is recorded in VGA resolution, yes no HD and the quality is just up to the mark. A lot of noise is visible even in slightly low light conditions, but the camera work well in bright conditions.
So the real question here is, has Nokia and Microsoft managed to bring Windows Phone to the mid-budgeted range? I would say yes. But have they done it well? Well, that is something that I am not completely sure of.

Being priced at around Rs. 11,000, it is the cheapest Windows Phone in the market, however having said that it gives you a slightly trimmed version of the OS.
Would I buy this handset? Not at all. With the limitations of Windows Phone OS, added to that the limitations of hardware, don't expect a lot from it. Although, Nokia has tried its best in delivering Windows Phones, and I am sure it will drastically improve in the coming months.