So an internal document released by RIM has stated that some BlackBerry Bold 9900 users have been facing a little 'design issue' with their 9900. The issue is regarding the holster that BlackBerry has supplied with the device and which in turn is affecting the keys of the device and 'knocked off' keys.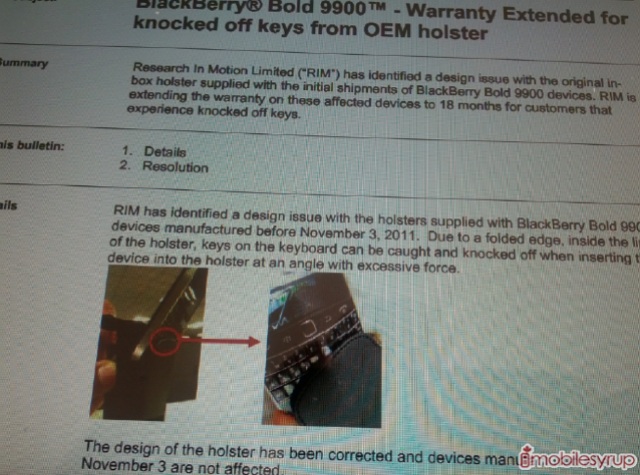 But now that RIM is aware of the problem, the Canadian company has decided to step in and address the issue. RIM has noted that the issue is only arising with the 9900's those where manufactured before November 3, 2011. After which the company has changed the holster design itself.
The document states:


"RIM has identified a design issue with the holsters supplied with BlackBerry Bold 9900 devices manufactured before November 3, 2011. Due to a folded edge, inside the lip of the holster, keys on the keyboard can be caught and knocked off when inserting the device into the holster at an angle with excessive force."
In order to resolve this issue RIM has decided to extend the warranty of those users affected by the holster and states in the same document, "repair all knocked off keys, damaged by the originally supplied holster, for devices manufactured prior to November 3, 2011 for 18 months as in warranty repairs".

So if you purchased the 9900, which was manufactured before November 3, 2011, then get ready for some replacements and extension of warranty. Nice move RIM.