Rumour: Samsung Galaxy S III to be announced on 22nd of May according to a leaked invite
With a number of rumours and renders, the Galaxy S III has become a hot topic in the smartphone world, and why not? The Galaxy S II was and has been a stunner of a smartphone and it also won the smartphone of the year award at the GSMA Awards at the MWC. So we can only imagine how awesome its successor, the S III is going to be.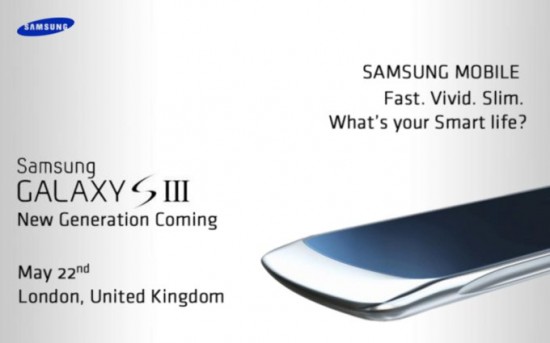 Now here's some more speculating news for you. A new image of an invite has showed up on a few Korean websites for the Samsung Galaxy S III. The invite has an image of a sleek metal finished smartphone and invites the press for the unveiling of the device on May 22nd in London.

Now if THIS is the S III, we have a new whole new render. Will a full metal frame be the new thing? Or is the same ceramic body that rumours said? And the display does look end-to-end (almost). Well, we can only speculate here, and wait will 22nd of May.