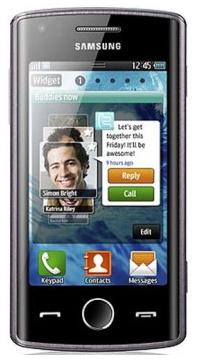 Samsung announced its latest device running on the Bada OS 1.2. This sleek device is one of the earliest models to be released with NFC (Near Field Communication) capabilities. The other highlight of this device is that it features Bluetooth 3.0.

Specifications
Features a 3.2" Multi-Touch TFT Capacitive Touch Screen

3 Mega Pixel Camera

Bada O.S 1.2

1200 mAh Battery.

Near Field Communication (NFC) Ready

Bluetooth 3.0

Proximity, Accelerometer

Active Sync

A Unified Inbox

Built In Memory of 100 Mega Bytes

Supports upto 16 GB of Flash memory -microSD, microSDHC

Wi-Fi

GPS
So what is NFC?
Near Field Communication or NFC in short, this is the latest communication technology that is aimed at short range wireless communication. It has an initiator and a target, wherein the initiator generates an RF field that can power a target. NFC operates at 13.56 MHz.
Using NFC one can read tags at a grocery shop or pay bills just like a credit card or even get coupons and even use the two NFC capable devices in Peer To Peer Mode.
Sleek Form Factor
The sleek form factor of the device does not restrict its features, the device being sleek, it has enough cool quotient and easy to hold in the hands thanks to the soft rounded edges. The Samsung Wave 578 is said to have the juice rated for up to 6.8 hours of talk time or have a standby time of 21 days, thus featuring maximum performance without having an impact on the design of the device.
Communication Maximized
Samsung introduced its next level of T9 support called the Quick Type, it is claimed that it is faster by two to three times and even supports 75 languages, so, heavy texters rejoice now! The device is powered by Rich Communication Suite (RCS); with this users can share content while chatting and also the ability to connect contacts across major social platforms (Facebook, Twitter etc.). The device also features Push Instant Messaging, using this the user can get the messages as and when it is sent directly to the mobile device.
This mobile device features the next iteration of Bluetooth, Bluetooth 3.0. It even supports Bluetooth 2.0 that enables higher and faster data rates and makes mobile sharing an ease. Samsung introduced a whole pack of communication goodies in this package!
Samsung Apps
Samsung Apps, it is an application store that is built right into the device and also accessible online, this helps the Wave users to download the growing applications. This store concatenates various application segments like Games, navigation apps, social networking apps. Samsung Apps gives users instant customization of their Wave handset and expands the other features that the device is capable of and enhance the mobile experiences on the Wave Device.
Availability
Samsung announced that the Wave 578 will be available in May of 2011 in France and will be gradually rolled out for production in the European countries, CIS, South East Asia, India, Middle East, and China. The prices are not announced yet.