Samsung Ativ Camera for Window Phone 8.1 to bring HDR, Slow-mo videos and more
It looks like Samsung is bringing some of its attention back to Windows Phone. Windows Phone 8.1 is just around the corner and Samsung has launched its Samsung Ativ Camera app for its Windows Phone 8.1 running devices.
While there are currently no Samsung devices running Windows Phone 8.1 but the South Korean manufacturer is already gearing for the update release. The Samsung Ativ Camera will be available to download on Samsung Windows Phone device after the latest update is released and installed.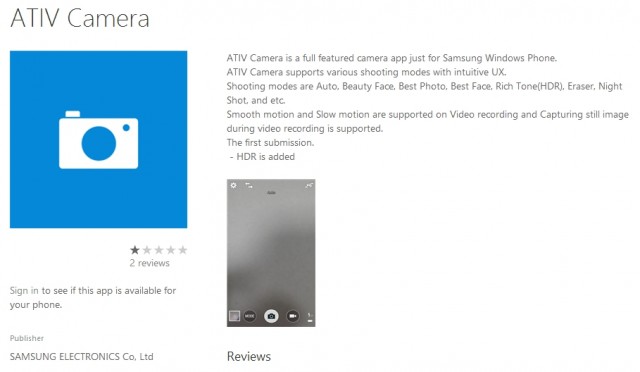 The Ativ Camera app brings a number of modes akin to Samsung's Android camera app. There are several modes including Auto, Beauty Face, Best Photo, Best Face, Rich Tone (HDR), Eraser, and Night Shot. The app also brings slow motion, smooth motion videos and also the ability to capture images while taking a video.
The Windows Phone 8.1 update is set to be released to several Samsung devices in the coming weeks. Once you're on Windows Phone 8.1, you can hit the Windows Phone Store link below and get the app.
Samsung Ativ Camera – Windows Phone Store