Samsung expected to launch 4K Ultra HD smartphones by 2015; Working on custom ARM processor
We just heard about Samsung's target to ship over 100 million Galaxy S and Note devices before the end of 2013. Not just that, the company has also made detailed plans for its future.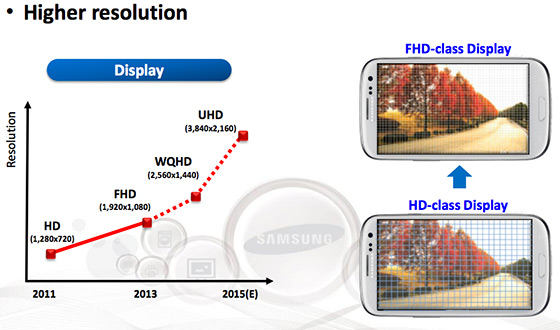 According to sources, Samsung is planning on high resolution displays for its future flagship smartphones. The company may soon launch smartphones with resolution touching 2560 x 1440 pixels which would result in a whopping 560 ppi density. Further, by 2015, the company aims of ushering into the era of 4K Ultra HD smartphones. Simply put, the smartphone could very well have resolution crossing 3840 x 2160 pixels with a mind-blowing 800 ppi density.
While displays has always been a positive for Samsung, the company now plans on concentrating on its hardware. The company is apparently working on its own ARM-based processor core which would follow the latest 64 bit architecture. Such processors are expected to be seen in Samsung handsets by 2015. In the meanwhile the company would bank on Qualcomm for its processors.