SwiftKey keyboard updated with multiple layouts for convenient typing
SwiftKey, which is the most widely used third party keyboard on Android, has been updated to SwiftKey v4.3 with the theme 'Layouts for Living'.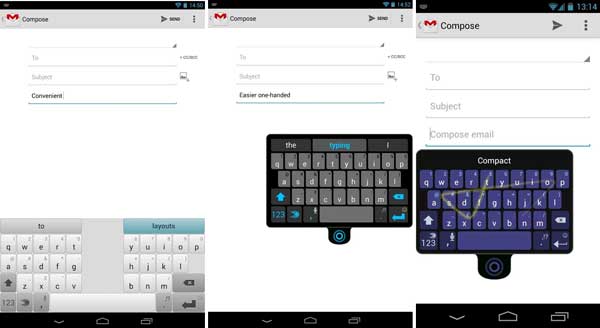 The SwiftKey v4.3 – Layouts for Living is now available on the Google Play store for all Android smartphones running Android v2.2 and higher. The new update features resizable and detachable modes that move close to your thumbs. Interestingly, the keyboard for smartphones and keyboard for tablets has been replaced by a single keyboard app, thus offering functionality over varied screen sizes.
The SwiftKey v4.3 has the Compact layout for easier typing with one hand or gesture typing using the SwiftKey Flow. The Thumb layout splits the keyboard into two pieces thus ensuring comfortable typing with both thumbs irrespective of the screen size. The traditional full keyboard is available with the Full layout. The keyboard can float around on the screen and can be rearranged as per the user's requirements.
While SwiftKey v4.3 keyboard is common to smartphones and tablets, there is an extended layout for the tablet devices with left and right cursor keys. All existing SwiftKey users would be automatically upgraded to the new version for free. For the rest, you can purchase the keyboard from the Google Play store for just Rs. 99.