Samsung Galaxy Note 3 to ship with Android v4.3
Now with the new Android version launched, it is expected to see all the upcoming high-end devices to feature the latest version. New reports suggest that the Galaxy Note 3 would follow the trend.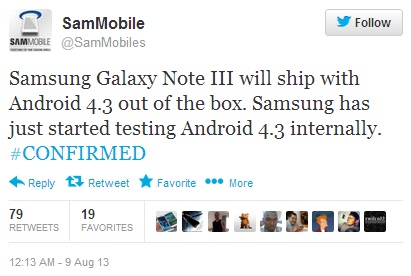 According to the sources, it has been confirmed that the Samsung Galaxy Note 3 would ship with Android v4.3 out of the box. Samsung has apparently started testing the Android version 4.3 internally and is sure to pre-install the OS build on its upcoming phablet.
This follows the pattern seen last year when the Samsung Galaxy S III was launched with Android v4.0.4 and the Samsung Galaxy Note II came soon thereafter with the newer Android v4.1.1. Similarly, this year, the Samsung Galaxy S4 was launched with Android v4.2.2, thus keeping the possibility that the Galaxy Note 3 would feature the latest Android v4.3