Amongst all the rumours and what not that has been spinning around the much-awaited Samsung Galaxy S III, a picture has now popped up which shows us what could be the probable Galaxy S III in its full glory.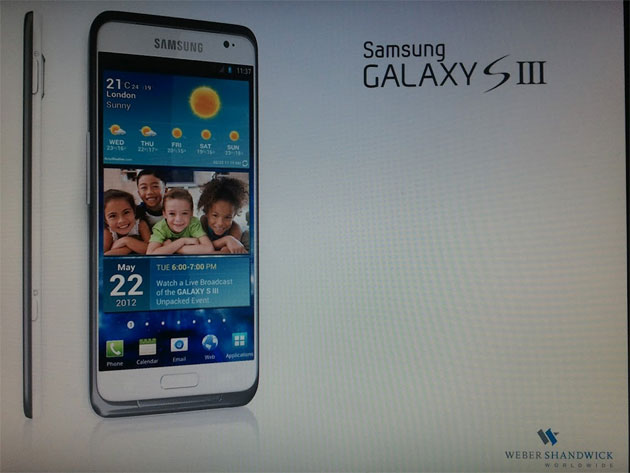 The picture was posted over reddit by a user and seems to be a leaked PR (Press-Release) photo. The picture looks very much genuine so does the S III in it.

The leaked image carries the name of a PR firm called Weber Shandwick which has done work for Samsung in the past, including their press conference at CES 2010. The image also indicates the launch date and place of the device which could go on to be on May 22, 2012 in London at the Samsung Unpacked Event.

Samsung had previously that the S III would be unveiled at "separate Samsung-hosted event in the first half of the year, closer to commercial availability of the product." And so this image only strengthens the fact.

From the photo a few details about the S III are revealed which include a dedicated camera button, the single home button, a front speaker grill, and an edge-to-edge screen which is as of now the 'in-thing' in the smartphone world.

It is also to be noted that this image could be a fake too as the temperature mentioned on the device is set at 21 degrees but the usual temperature in London in May remains anywhere between 17-18 degress. Also the image used in the photo widget, is the one used by Samsung in its previous devices and they might not be totally interested in repeating it in a new device.

So if this device goes on to be a fake then it is indeed a neat work of Photoshop. What's your take on this? Real or fake?! Shoot your views below.