Even though two weeks have passed since the Samsung Galaxy S5 unveil, it is yet to appear on the shelves. Samsung is enticing consumers by sweetening the deal even more. Samsung will offer 15 percent discount to consumers who pre-book the handset by putting down a deposit of Rs. 1500.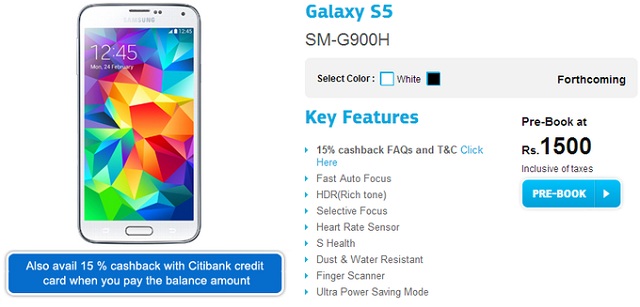 So basically put, if the Samsung Galaxy S5 debuts at Rs. 51,500, you will get Rs. 7725 discount i.e the phone will cost you Rs. 43,775. If you are looking to buy a new phone, or just have some extra cash lying around, the Samsung Galaxy S5 might be something you should look into. At this price, it also comes closer to the debut price of its predecessor – the Samsung Galaxy S4, which came at around 41,000.
Samsung also indicated at the S5 unveil that even though they are commanding a high premium for the Galaxy S5, they will put in schemes to ensure that it is not too burdensome for the perspective consumer to get hands on one. They suggested EMI schemes, financing and even bundled offers if you purchase a Samsung Gear smartwatch along with the Samsung Galaxy S5, although without telling us any other details.
Our suggestion would be that Samsung handsets generally take a price cut after a few months of hype. If you can wait on this one, it might be worth your while. Else this deal is pretty cool too.