The Samsung Galaxy S5 is popping up in all places before the company launches it officially around the globe. After we reported yesterday that the Samsung Galaxy S5 had gone on sale in India, Orange Romania has offered it at 249 Euros on contract and at 699 Euros for a completely unlocked device.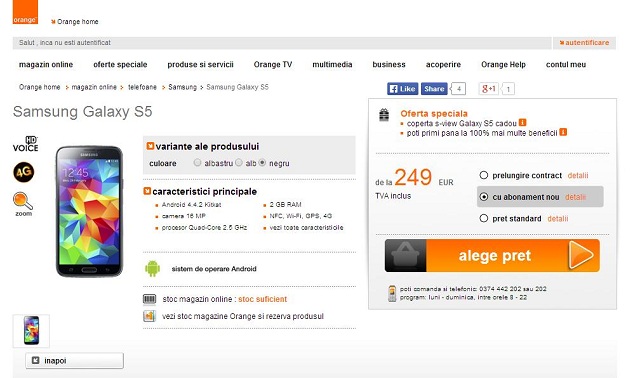 Many people have called the online listed price of the Samsung Galaxy S5  – Rs. 45,500 as wrong and since it shows out of stock as of now, they think that this is just a fluke. But, since a carrier such as Orange confirmed with a listing, the price sounds about right. See, even though 699 Euros is an exorbitant premium, you have to keep in mind that a consumer needs to pay 24 percent VAT in Romania, which shoots up the price. Even the predecessor the Galaxy S5 – the Samsung Galaxy S4 retails there at 400 Euros.
The fact is that, even though many online retailers around the world have already listed the Galaxy S5 for sale online, the exact pricing will only be confirmed on April 11, when Samsung formally introduces it in many countries.