Yesterday we saw a boatload of Samsung Galaxy S8 and Galaxy S8+ images surfacing online which gave us a look at the devices from multiple angles. Well, today we have more leaked images of this Galaxy S8 duo to drool our eyes over, one of which also compares the size of both the devices side-by-side.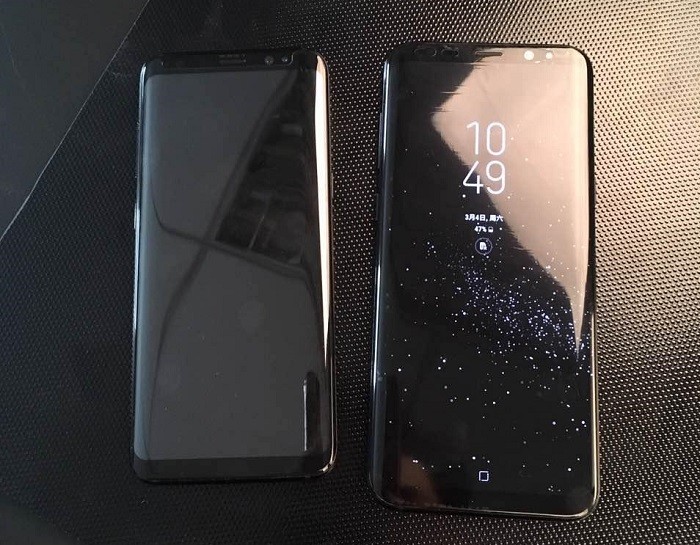 These images come from the same case maker who leaked the images of the Galaxy S8 duo yesterday. As you can see from the image above, both the S8 devices are kept side-by-side, comparing their size with each other. While the Galaxy S8 is rumored to come with a 5.8-inch display, the larger S8+ is said to sport a 6.2-inch display. However, there isn't much visible difference between both these devices in terms of size. Also, considering the smaller bezels at the top and bottom of the device, these should be comfortable to hold with one hand despite their larger screen size.
Other images that have leaked show off bezel-less display along with front facing camera, earpiece and Iris Scanner. At the top of the device is the SIM card slot along with secondary microphone and at the bottom is the USB Type-C port with 3.5 mm audio jack, primary microphone and speaker. This is inline with the past leaks that we have had a look at. These images also show off the device with metal black finish which looks cool.
Samsung Galaxy S8 and Galaxy S8+ rumored specifications:
[table id=90 responsive=flip/]
The Samsung Galaxy S8 (along with S8+ hopefully) is going to be unveiled on March 29, but until then, keep expecting such images to leak online.