Just a day after a Windows Phone handset with Quad HD display was spotted at the GFXBench, another similar handset has surfaced but this time from Samsung.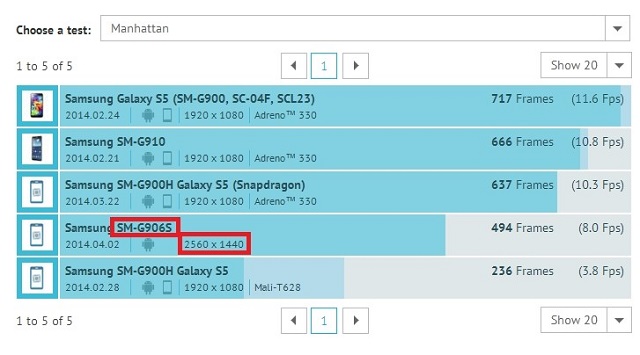 An unknown Samsung handset bearing model number SM-G906S was spotted at the GFXBench. What is interesting is that the handset has display resolution of 2560 x 1440 pixels. Performance wise, it even overpowers the Exynos powered Galaxy S5, thus leaving no doubt that it is a high end device.
While it could be just mere speculation, this could be the much talked about premium version of the Galaxy S5 – something that was heavily rumoured during the initial phases of the leaks and then discarded just before the launch. In fact, even the numbering of the handset aligns with the Galaxy S5 range. Given Samsung's habit of launching multiple variants of the same handset, we definitely cannot discard this theory.