Samsung recently brought the much awaited Android 4.4 KitKat update to Galaxy Note II. Now, the South Korean giant might be planning to treat some more devices with KitKat.
As per a leaked document, Samsung will bring the Android 4.4 KitKat update to a number of devices in June. Various devices like the Galaxy S4 Mini, S4 Mini LTE, Grand 2, Mega 5.8 and Mega 6.3 are listed to be getting the Android 4.4 KitKat update in June.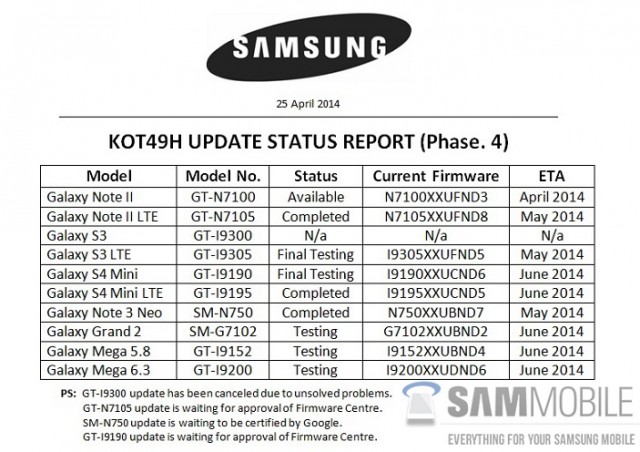 While the international Galaxy S3 is listed to be not getting the KitKat update and it is said to have been cancelled due to "unsolved problems". The Galaxy S3 LTE variant is listed to be getting the update this month along with Galaxy Note II LTE and Note 3 Neo.
The report also suggests that Samsung is testing the Android 4.4.3 update for the Galaxy S5 and the company might also be planning to skip the updates in between and update some devices directly to Android 4.4.3.
Although the leaked document seems credible, the dates may change as an update process involves a lot of testing and stuff. Anyways, atleast we know the devices, which are getting the update. KitKat currently holds 8.5 % of all Android devices and with more devices getting updated, that number should increase.