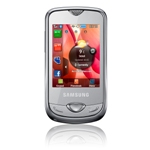 Samsung Electronics announced the launch of its most affordable, full touch 3G enabled handset, Star Nano 3G (S3370) at Rs. 7320. The compact Samsung Star Nano 3G has a curvilinear design. Star Nano 3G has a 2.6" screen with a 4 page menu. The phone has advanced connectivity with 384kbps DL/UL (3G ready), Pop Up SNS and fast multimedia downloads. The Touchwiz 2.0 Plus in the phone ensures seamless navigation home screen widgets, Gesture control and an interesting UI.

The SNS 2.0 feature of the phone offers users allows users to connect with friends and family while being on the move through social networking sites like Facebook, Myspace, YouTube etc. The pop-up SNS feature along with Mail, Photo and Profile Toolbars help users to frequently update their status and carry on conversation with their peer group. The phone also has instant chat messenger facilities like GTalk, AIM, Palringo Chat and helps connect friends on one screen with unified messaging service. Users of Samsung Star Nano 3G can enjoy the Active Sync Google Push e-mail service and sync calendar and contacts with ease. The Full Screen Video playback facility ensures pure viewing pleasure.

Samsung Star Nano 3G is application rich and users can download free applications from Samsung Apps. Currently users can download from 26 JAVA applications and games that have been developed globally like weather forecasts and share market trends and India relevant Java based apps like Vocablite, Sudoku, OC2ps, Shorthand, Rocketalk, MBA lite etc.

The phone comes with 35MB internal memory which is expandable upto 16GB 1.3 megapixel camera, music recognition, FM radio, video recording, English dictionary, mobile tracker, fake call and mobile prayer features. Samsung Star Nano 3G can store up to 2000 contacts on its phonebook and upto 800 SMSs. It comes with a 2GB memory card, stylus pen and leather pouch.